Blog
---
29 most asked questions answered on Power Banks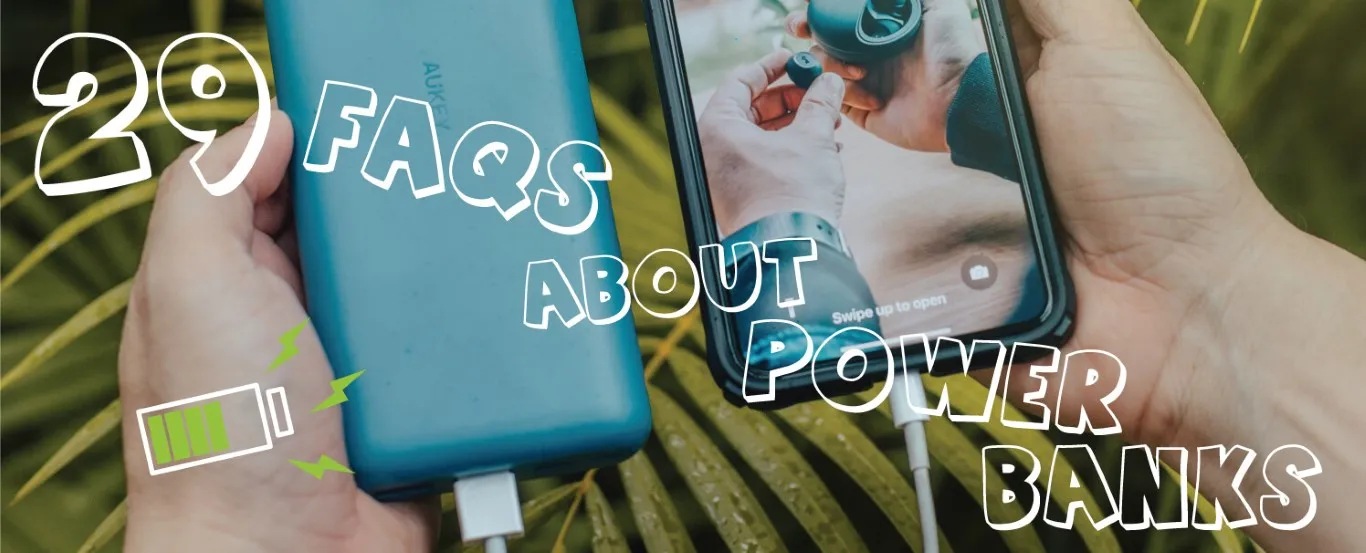 This Guide is to assist in answering your most asked questions about power banks.
If you're looking for a unique gift that will impress your clients or business partners, then power banks are great corporate gifts.
Technology is becoming more advanced and faster. So, if your business is searching for a gift that is unique and different, then a power bank would be an option to surprise your business partners or clients with.
Power Banks can cater to the mobile activity of your consumers or clients. They are easy and comfortable to use in your everyday life.
Below is a list of questions that are answered on power banks. These answers will tell you more about what power banks are and how they can help you in gaining more awareness and exposure for your brand.
1. Why use promotional power banks?
Power banks are great to use. They can charge your phone when you're out and about. If you stuck in meetings all day, you can use a power bank to charge your phone.
Promotional power banks are fantastic. Giving a power bank as a gift to your VIP clients can be a great way to show appreciation.
Clients and staff members would appreciate this gift because it is a useful gift that they can in their everyday life. Promotional power banks can be great for gym lovers. Let's say you're on your way to the gym then you could just pop your phone on charge with a power bank.
If you're thinking of hiking with friends then a power bank can be a useful item to have. Hiking can take a good few hours out of your day. So, while you're hiking your mobile can be charging.
Branding a power bank with your company logo can increase brand awareness. Having an attractive design with a colourful logo can attract your consumers.
2. Why are power banks such cool corporate gifts?
In most countries in the world at the moment people are getting more and more attached to their cell phones. People want to know where their phones are. If someone leaves their phone somewhere, they start to have a panic attack about getting their phone back.
Mobile phones are here to stay. It is so frustrating if you need to phone and your phone has run out of battery!
You may need to send or receive an urgent email or tell someone where you are and nowadays in the world, especially in South Africa, having a phone that charges can give you peace of mind.
Well, in South Africa at the moment we are having a lot of load shedding. What this means is that you forget about load shedding and suddenly you have no electricity to charge your cell phone.
Brand innovation supplies a large number of different types of power banks. We always want to sell something that a company really needs to be buying. A power bank is a gift that people will appreciate receiving. What is the perfect power bank for you?
I personally like a very strong power bank. I like a power bank that is about 10,000 mAh or stronger. Although you can get smaller power banks that can charge a phone and then you only need 2200 mAh. You need to consider power, price and weight. I like a strong power bank that is light to carry. As technology improves, power banks are getting smaller and smaller.
3
.
Why are power banks a great product for marketing in South Africa?
Power banks are great products for marketing because they are usually cost-effective gifts. If you're a business that wants to sponsor power banks then buying in bulk can save your company money.
Buying in bulk allows your business to buy at a lower cost while still giving your consumer a great gift.
4.
What are power banks?
Power banks are portable chargers that are designed to recharge your electronic gadgets when you're on the move.
Power banks are available in different sizes from slim, to pocket-sized devices and even larger sizes. Higher-capacity power banks can be used to charge cell phones and tablets.
5. What is a high capacity power bank?
High capacity power banks would be considered as a power bank of 10,000 mAh that can charge large devices such as tablets and cameras.
6.
Will power banks be a great marketing campaign for my business?
Branded power banks can be an excellent marketing tool to use in a campaign. By using promotional power banks, you can increase your brand's visibility while increasing your customer loyalty.
When you brand your company's logo on a power bank, then you are leaving a positive impact with your customers or clients. You can give a power bank as a gift to your VIP clients. This can be a reward to your VIP clients to show appreciation towards them for their hard work.
7
.
Can I brand my business logo on a power bank?
Yes, of course you can brand your business logo on a power bank. By doing this, your company can boost awareness about their brand.
When consumers use your branded power bank they will constantly be reminded of your brand. Having your contact details branded on a power bank can make it easier for you consumers to get in touch with you.
8.
Will I be able to charge more than one cell phone with a power bank?
It depends on the type of power bank you have. Some power banks are only able to charge one phone while other types of power banks are able to charge 3 phones.
For example, let's say you have a 2200mAh Power bank then this type of power bank will only be able to charge one phone. Whereas, if you have a power bank that is 10000mAh then that has 2 USB parts.
9.
Do power banks show battery life?
Some power banks show the battery life. But it depends on the quality of the battery cells. However, most power banks have built in charging indicators.
10.
The benefits of power banks
They can be used for the load shredding period.
A power bank keeps your mobile charged.
They are light and portable.
You can share a power bank with friends depending on how many devices it can take. It could take two or only one device.
They are compact.
Many power banks have built in protections for safety purposes.
Portability and Comfortability- Many power banks are small in size. So, you can carry them around in your backpack or handbag.
It is comfortable and convenient to charge your phone with a power bank.
11
.
Brands of power banks
Our brands of power banks include;
Altitude Gifts
Alex Varga
Swiss Cougar
Swiss Peak
Snug
12
.
Are power banks safe?
Our power banks are safe. It is advisable to invest in a power bank that has a high-quality lithium-polymer battery for your safety purposes.
Having a quality power bank can limit the chances of any explosions taking place and keeps your device safe. Many power banks come with built-in protection against dangers like short circuits, over-heating and over-charging. They can cost a bit more but you will be protected.
13.
Why are power banks useful during load shedding?
South Africa has been implementing load shedding schedules over the past few weeks making it difficult for some industries to work accordingly. Load shredding has been taking place on regular basis around Cape Town to reduce the amount of electricity that consumers have been using.
Let's say the power will be off for a few hours during the day and your phone is not fully charged. You have meetings that will be taking place throughout the day so you need your phone to be fully charged. Keeping a power bank in your handbag will allow you to charge your phone. You will be able to charge your phone and take all your business calls.
14
.
What are the strongest power banks?
Well it depends on the type of power bank that interests you the most. But I personally think the 10,000mAh would be a great power bank to invest in because it is strong. I like strong and lightweight power banks.
15
.
How many devices can charge in a power bank?
This depends on the type of power bank you have. Usually some power banks can charge one phone. But it depends on the power bank. You could have a 100,000 mAh power bank that could charge two mobile phones at once or you could have a 2200 mAh power bank that is only able to charge one mobile phone.
16.
How long can a power bank last?
Different power banks last different lengths of time. Think about how often do you charge your phone. If you're charging your mobile a lot throughout the day, then this can harm or degrade your device faster. The make and the model of a power bank can determine how long the power bank will last. When you charge your phone fully, you can take out the charger once it's charged fully to avoid overcharging your phone.
17.
How long does a power bank take to recharge?
Most power banks usually charge within 1-2 hours. It depends on the type of power bank you have. But you shouldn't overcharge your battery because it can cause damage to your phone.
18.
How long is a power bank's battery capacity?
Power banks come in different sizes and capacities. Higher capacity power banks can last longer than low capacity ones. Buying a power bank with high capacity can last for a longer period.
19.
What are the types of Capacity of power banks
2 000 mAh power bank and case
4 000 mAh wireless power bank with lantern
5 000 mAh power with a mirror
6 000 mAh woodland power banks
20,000 mAh power bank
20.
How many times can a power bank charge my device?
When it comes to knowing the amount of times your power bank can charge your phone then this all comes down to the capacity of your personal device and the power bank you bought. Power banks are measured by their capacity, so its rated in mAh which stands for Milli Ampere per Hour.
So, the higher the mAh rating is of your power bank, the more power it will have to recharge your devices. A good tip to keep in mind is to invest into a power bank that has an equal or fair rating.
21.Are custom power banks great marketing tools?
Power banks can be customized to showcase any information like your company name, logo or your company's contact details. Promotional power banks can impress your customers because they can use it in the office, the car or in the comfort of their homes.
22.
What are
solar power banks?
Solar power banks can charge from sunlight. Solar power bank aims to reduce electricity consumption. So, solar power banks are powered by solar energy.
They are portable battery packs that are connected to a solar panel. Solar power banks inhale solar energy in order to produce electricity. The great fact about a solar power bank is that they can store power for future use.
23. How does a Solar power bank charge in the sun?
Solar power banks can charge in the direct sun. But you should leave it in the sun to charge as long as possible. The less direct sun or light that hits on the power bank means that you will have less charging occurring.
24. What is a solar battery charger?
Solar battery chargers are devices that are used to avoid using the power. They are easy to use. These chargers have solar panels that collect power from the sun so that they can convert it into electricity.
The great use of using a solar battery charger is that it can store energy, which is terrific.
So, this energy can be used later when the sun is not out on a wet or cloudy day. You can even charge the battery of your cell phone without taking it to the sun.
The great fact about this battery is that you can store solar energy in the solar charger. Then it can later be used at night to charge your phone.
25.
Should power banks be used as corporate gifts to clients and staff?
Yes, power banks can be the perfect gift to give your clients. Especially since load shedding takes place on a regular basis in South Africa.
You can even package a power bank in a stunning gift box. Your clients and staff members will appreciate a power bank because it can be useful in their everyday lives and even at the office.
By giving clients and staff members a power bank as a corporate gift they will appreciate your efforts as a company.
They will also take note in the fact that your company took the time to give them a product that would be useful to their everyday lives.
You could even personalize a power bank with their name and the company's details to make them feel even more special. This is a fantastic way to build better relationships with staff and clients. It's a great way to show your clients that your company cares.
26. What does mAh of power banks mean?
mAh means milliamp per hour. mAh represents the 1000th of an ampere-hour (Ah). So, basically this is a unit that can measure electric power.
mAh means the higher the power bank, the longer the battery life. Ampere hour is known as the amount of energy that is stored in a battery.
The milliampere hour is the amount of energy that a battery can store. A higher mAh basically means that a battery that is fully charged can power up a device with more energy. If consumers know what mAh is then this will help consumers to identify how long a battery will last.
27. Can power banks charge a laptop or tablet?
Well, it depends on your laptop specifications. No all power banks can charge laptops because all of them have different strength abilities.
So, if you want a power bank to charge your laptop, then you should consider getting a higher voltage output, all depending on your laptop or tablet specifications.
28. Are all phones compatible for power banks?
Well, billions of cell phones are compatible for power banks. But different power banks have different strengths. So, before you buy a power bank check the mAh capacity.
29. Did you know that power banks can't be shipped by air?
Power banks cannot be air freighted. Power banks have certain batteries that can utilise lithium cells. So, lithium batteries can combust. These batteries are prohibited by federal aviation regulations.
Request a Quote
Browse Power Banks
Enquire