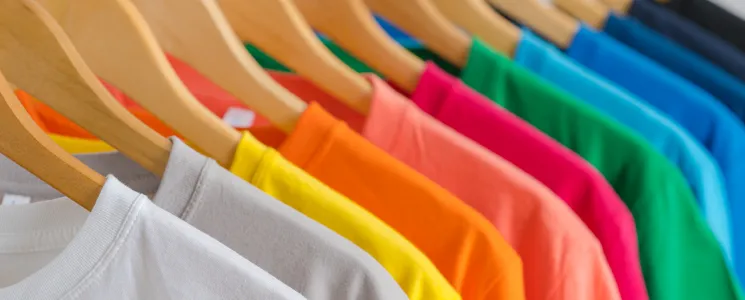 Mariska Venter
Updated 23 November, 2021
How branded T-shirts can help to grow your brand in 2022
Who says no to a comfy branded T-shirt?
No one, that's who! We all love t-shirts and there are a thousand reasons we wear them, which is exactly why giving your clients, staff and suppliers a thank-you branded t-shirt is going to earn you far more than what you spend.

The goodwill generated by the gift of a branded t-shirt is really priceless, and, being such a versatile promotional clothing item, you can't go wrong with these as gifts to give your brand the lift you long for, especially at a time when businesses are slowly coming back to life after lockdowns!
Bring your marketing goals to Brand Innovation & watch T-shirt magic happen for your brand!
Naturally you must have a goal in mind when you set out on the journey into t-shirt marketing. Whether it's to thank loyal customers for sticking with you, restarting old business relationships that would lead to renewed business, or retaining customers that may have had a bad experience through circumstances beyond your control, a branded t-shirt will help them to stick with you.

This also leads to the possibility of new avenues of business opening up for your company, with the branded t-shirt being the vehicle through which to reach a wider target audience.

Few promotional gifts companies can take your goals and apply just the right magic to make branded t-shirts accomplish your promotional goals as Brand Innovation does! They love what they do and are great at it too!
Do your homework before giving away branded t-shirts
You do need to have an idea of the market you'd like to reach with your investment in branded t-shirts. You're going to need to know a little about the people you'll be gifting with the t-shirts, what type of lifestyle they live, whether they're men, women or kids.

Your research into your clients will be important, so that you don't give t-shirts to people who wouldn't be caught dead in a t-shirt! If your industry has opened up enough to allow for tradeshows, you'll be in the pound seats by investing in branded t-shirts as giveaways!

There's so much more that can be gained by targeted branded t-shirt giveaways, that your best option to get the most out of your budget, and to reach your promotional goals, will be to contact the awesome team at Brand Innovation today.

They love people and what they do, which means that you'll get the best of all promotional worlds with this team on your side! They'll work with you to find the best solutions to your branding needs and promotional goals.
According to the
Promo Product Expo
Sandton Trade Centre in an article written in June 2020 "The global products industry is doing well, despite an unstable economic climate, and is said to be growing at a pace, with industry experts seeing this upward trend continuing until at least 2024"
In answer to their question about whether 'promotional products are the gifts that keep on giving in SA', we'd have to say a resounding
yes
!
As tough as the economy has been, nothing can change the fact that promotional products like branded t-shirts are the most cost effective way to get your brand out into the spotlight, for the long term.
A simple, well-branded T-shirt will keep your business on the top of the list of businesses your client will call on, for any services or products you offer.
Let the passionate team at Brand Innovation introduce you to the exceptional ROI you can look forward to by investing in branded T-shirts, creating walking billboards that raise brand awareness in age groups from tiny tots to grandma and gramps!