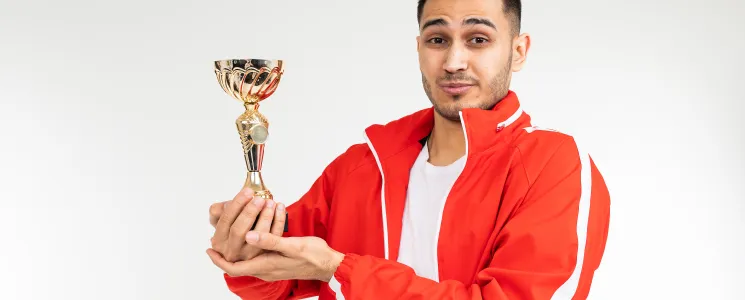 Mariska Venter
Updated 22 November, 2021
Create a cohesive image for your team with branded tracksuits from Brand Innovation!
Styles & colours designed for personalised branding & sponsorship logos
There's no doubt about it, wherever your team and logo travels, it creates the sense of familiarity that's essential in sports. We know this from our connections to famous rugby, cricket, soccer, netball, tennis and other sports teams we recognise by their style and uniformity.

As human beings we are prone to stick to the familiar, and, with all the colours available in the tracksuits available online from Brand Innovation, it'll be easy to turn your team into one that's easily recognisable and remembered, no matter where they go.

Your sponsors will definitely appreciate the quality and style you'll be investing in when you bring Brand Innovation in on your purchase of tracksuits, at highly competitive prices.
Stylish & durable tracksuits designed to give your brand the upper hand.
The creative and experienced team at Brand Innovation has gone to great lengths to ensure that the tracksuit tops, tracksuit bottoms as well as their full tracksuits, are stylish and will go the distance out on the field.
Elasticised waistbands, bottom leg zippers, two-tone or three-tone colours, Velcro closures; these are the quality of tracksuit you'll be looking at to bring your team up to date, bringing with it the increased brand awareness every team needs to keep moving up the rungs of success!
...and it's not only about tracksuits at Brand Innovation!
If you're looking for anything at all to do with sportswear, from socks to sports vests, soccer shirts, scrum shorts, hot pants, running shorts, cricket pants, soccer sets, t-shirts, crossover joggers, crossover shorts, golfers, rugby jerseys, you'll find them all right
here
with Brand Innovation and their featured BRT Sportswear range!
Get your team ready for a makeover with the awesome professionals at Brand Innovation today!
Create a visual reminder of your sports team that won't be forgotten easily, with an investment in
branded tracksuits
available from Brand Innovation!
It's all about comfort and ease of movement when it comes to these stunning tracksuits, and, while the tracksuits offer this to your team, your logo on the tracksuits gives your brand the wings to soar as it should!
Normally, you're stuck with only being able to buy a full tracksuit, but not at Brand Innovation! This team has made it easy for you to buy tracksuit tops and pants separately, though they do have full tracksuits for sale as well.
Two of these are the
BRT Econo Tracksuit
and the
Reflect Tracksuit
, both of which are available for ladies, men and the kids...what more could you ask for to keep your brand mobile, visible wherever your team and families move and get together, whether for fun or for serious sports!
If you're in the market to buy tracksuit tops and tracksuit pants, then the
BRT X-Celerate Tracksuit top
and
BRT X-Celerate Tracksuit pants
are a prime examples of the style and quality you'll find available at Brand Innovation, and, most of these are available for ladies, men and the kids!