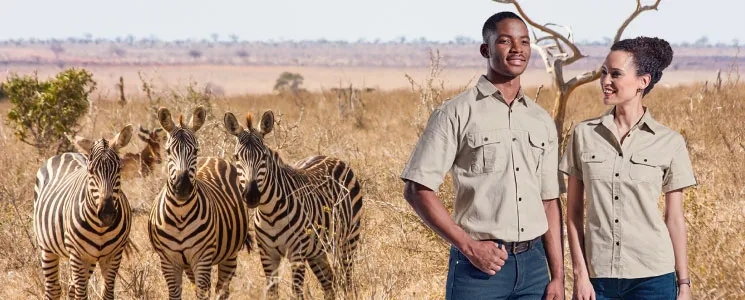 Mariska Venter
Updated 02 November, 2021
Stylish Bush shirts for ladies and men available at Brand Innovation!
There can be no doubt about the fact that South Africans have the outdoors stamped deeply into their DNA, whether for leisure or as a career and business.
Many in the hospitality industry have spoken of a great increase in the desire of South Africans to explore the outdoors, especially since the initial lockdown we were forced to endure with the arrival of the Coronavirus.
Naturally, the growth of any industry that showcases and encourages an outdoors lifestyle would be in need of uniforms that suit the lifestyle, as do the visitors and guests to game lodges and parks throughout the country.
To meet this demand, and give businesses an opportunity to showcase their brand outdoors or indoors, Brand Innovation showcases a full range of
bush shirts
for sale, for ladies and gentlemen.
These bush shirts have all been chosen and designed to add a touch of class to your business, once you've stamped it with your tasteful brand.
The building trade, warehousing, retail outlets, agricultural sector and so much more, are perfect areas in which you can grow your brand by outfitting your staff in stylish
branded
bush shirts that are designed for comfort, summer and winter.
Branded corporate clothing
such as bush shirts translate into being a walking billboard for your brand. Every time a member of your staff steps out your door, or greets a customer, your brand is seen as uniform and consistent, from their communication with your clients to their appearance it all becomes a cohesive force for success.
It will certainly not instil confidence in your brand with clients if your staff looks sloppy and untidy, which is where it holds very true that first impressions count for much in terms of growing any brand.
The team at Brand Innovation have put their heads together to make sure that they offer only
promotional products
that they themselves would wear or use, which allows them to have real passion for ensuring that they collaborate to bring the best in branding to their clients.
The bush shirts showcased by Brand Innovation are chosen for their muted tones that make branding easy, and are also chosen for the long-lasting quality you can expect from your investment.
Brand Innovation is about building long term relationships with clients, based on honesty and integrity in all that they do to assist clients to showcase their brand in the best possible light, without having to blow their budgets.
It's a fact that the more units you purchase, the more you get for less. Not only does the cost per unit go down, but the branding along with it, which means you get a lot more for far less than you might imagine.
This is the beauty of
promotional clothing
and
corporate gifts
, in that you spend far less to get far more, for a much longer period than you would with any other form of advertising.
Most small to medium businesses don't have the budget to plough a fortune into consistent online marketing campaigns, and, if they do, they find that it takes a very long time to start seeing any return for the investment, though there is definitely a place for online marketing, it's still very expensive.
On the other hand, investing in branded promotional clothing like bush shirts will cost you a lot less
and
take your brand a lot farther and a lot faster than print media or online marketing can do at the same price, for the same quick turnaround time.
If, like the team at Brand Innovation, you believe in the power of branding,
contact
them today to get to work on planning the best branding ideas to carry you into 2022 and beyond!