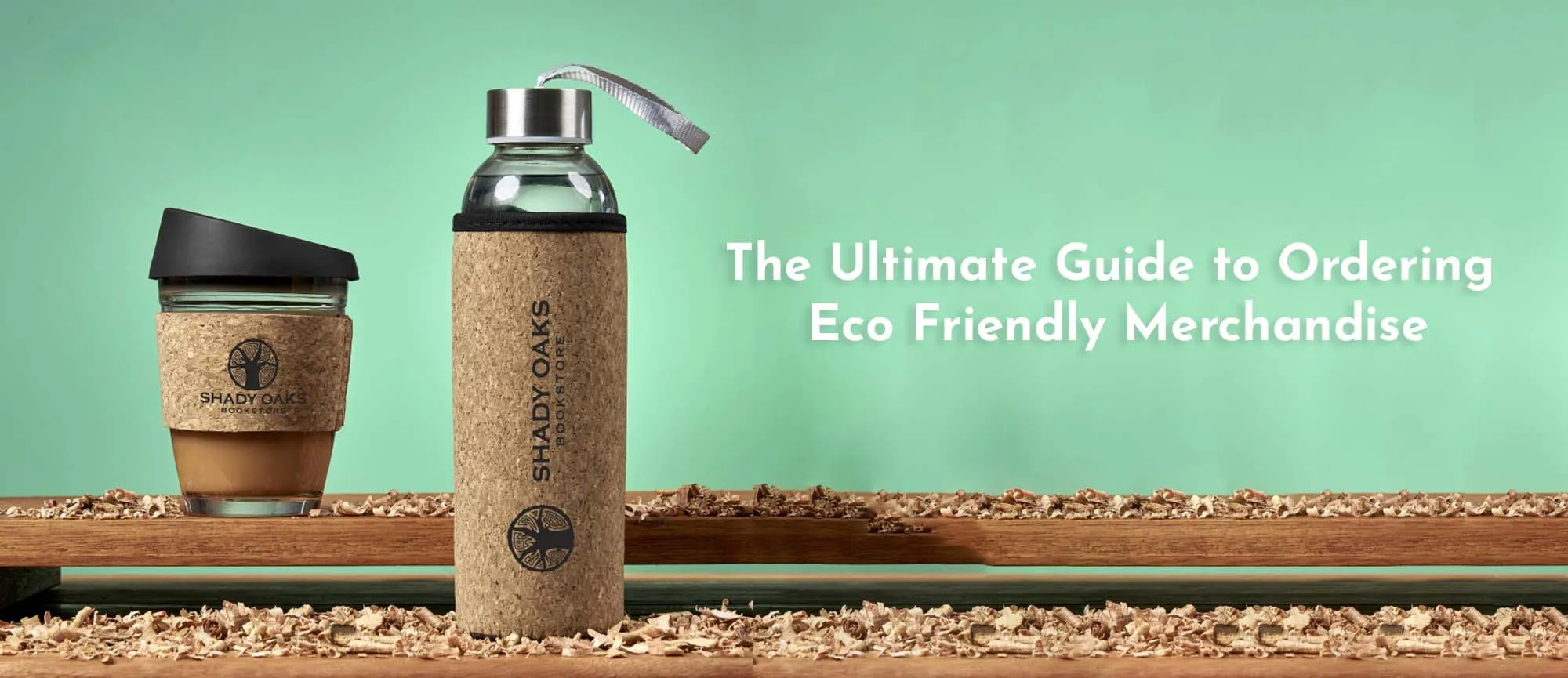 The Ultimate Guide to Ordering Eco Friendly Merchandise
Eco Friendly Merch
With the world struggling with the effects of climate change and plastic pollution, more people have become aware of their impact on the planet. Yes, businesses included, as many consumers have changed their purchasing habits, choosing to support brands that share their sustainable beliefs. So, we at Brand Innovation want to make it easy for you to decide what eco friendly gifts or eco promotional merch to order.
What does sustainability mean?
Sustainability is a word that has gained popularity in recent years but does anyone know what it means? The exact definition of sustainability has been disputed and varied over time. Sustainability is a goal, a push for positive social change and a consideration of our habits so we can take better care of our planet and co-exist for generations to come- without causing any environmental damage.


What makes a product sustainable?
What makes a product sustainable? There are many ways for a product to be sustainable. Merchandise made from biodegradable or recyclable organic material can be considered to be sustainable as it limits harmful waste, but so can a reusable metal water bottle as it limits single-use plastic. So sustainable products don't have a specific look, but rather a message that promotes ecological conservation and positive environmental change.
Environmentally friendly merch materials
With eco-promotional merch on the rise and the popularity of sustainable branded clothing increasing, many different materials have been utilised in making this green dream a reality. One of the ways that has been gaining traction is by using the following biodegradable materials to make biodegradable products.


Bamboo
This plant is an incredibly useful material due to its low maintenance and versatility. The rapid regeneration of this crop makes it extremely renewable and more resilient than other plants. Bamboo is also a great source of oxygen, proving it is a great sustainable source on all fronts.

Here are 3 of our favourite bamboo products we have on offer:
Cotton
Spun from the wool of the cotton plant, cotton fabric is an awesome material used in eco-promotional merch. Cotton is used to make many different eco-conscious products, most notably the cotton tote bag, which has commonly been seen on the shoulders of university students or as the grocery bags of environmentally conscious individuals.
Cork
Cork is considered to be one of the most eco-conscious materials out there because it is completely natural, recyclable, and 100% biodegradable. What makes cork so sustainable is that it's sourced from the bark of the cork tree without the tree being cut down. This makes cork a fantastic material, since it doesn't add to deforestation and it can regenerate all on its own.

Here are 3 great cork products you can find on our website:
Jute
Jute is a natural fibre made from the stem and outer skin of the Jute plant. This fibre is then spun into strong threads that can be used in production. The origins of this material make it completely biodegradable.

Here are 3 great products to pique your interest:
Paper
Being made from trees, paper is a renewable resource as trees grow continuously and since it is made from an organic source it is 100% biodegradable. Paper is also recyclable as it can be repurposed into packaging, newspaper and paper towels.

Here are 3 awesome paper products you can choose from:
Spekboom
This wonder plant acts like a carbon dioxide sponge, absorbing impressive amounts of CO2 and improving air quality. Spekboom is also low maintenance as it does not need much water, allowing it to be super resilient. So if you're looking for the best plant gift to give then look no further:

Email us at info@brandinnovation.co.za for you best plant gifts to give!
Wheat Straw
Wheat straw is the leftover material of wheat after it's been harvested for flour, bread or wheat-gluten. This wheat straw is broken down into natural polymers (building-blocks) which can then be used to make plastic. Harmful plastic is made from artificial polymers, but since Wheat Straw is natural it creates natural polymers which can then be used to make natural, biodegradable plastic.

This material is renewable, requires less energy to produce and encourages zero-waste since it utilises the wheat straw when it is normally thrown away or burnt after the wheat harvesting process.
Wood
Like paper, wood is sourced from trees, making it highly renewable, biodegradable and also sustainable. Wood is also long-lasting and recyclable without causing much harm to the planet, and it can be sourced locally!

Here are 3 marvellous wood products to browse:
Why does it matter that products are biodegradable?
The beauty of biodegradable products is that after they have been loved and used they can be reclaimed by the earth and broken back down to their original parts. So instead of the products ending up in landfills, they can be broken down naturally without causing any harm to the planet.


Why your company should gift green
One way your company can show that you care is by embracing eco friendly merch when it's time for corporate gifting. Not only can you make a positive difference in the world and encourage others to do the same, but you can also strengthen your brand reputation and image. By gifting green your company will be seen as environmentally conscious and socially responsible, which will only strengthen brand alliance and attract new clients.


Brand Innovation's environmentally friendly business practices
Brand Innovation is a green business deeply dedicated to improving the environment and reducing our carbon footprint. Our company is 80% off the grid as we make use of solar panels and a water tank to water our garden. We also recycle and encourage carpooling to and from work, just to make sure we're doing everything we can to help our planet.
The Okiyo Brand
Okiyo is our green brand that offers a wide range of products made from materials that are recycled, recyclable or reusable. With everything from paper pens to jute bags, you can find whatever you're looking for while making a positive change for our planet. Okiyo puts a strong emphasis on sustainability as our goal is to reduce the harmful impact we have on our environment, making Okiyo a great choice for your eco friendly promotional merch.
Our favourite eco promotional merch to green up your corporate gifting
Sustainable drinkware
A great way to cut back on plastic bottles and single-use coffee cups is through reusable drinkware. From travel mugs to glass water bottles these portable items are great for sustainability, and brand exposure and make a fantastic green corporate gift.
Eco friendly notebooks and stationery packs
These notebooks and stationery are the perfect pair of promotional merch for your brand. Used by everyone, everywhere, every day, an eco-branded stationery pack or hardcover notebook is great to add to your eco friendly corporate gift bag and get the word out that you care.
Earth friendly eco bags
Branded bags are a great and creative way to send your message to the world! These mini billboards are a popular and frequently reused product, making them perfect to fight against plastic waste and show the world you care.
Eco Technology
Technology has always been a well-received promotional gift but just because it's tech doesn't mean it can't be environmentally conscious. Instead of choosing gadgets that incorporate plastic in the hardware, go green and choose more sustainable materials.
What makes a business sustainable?
A sustainable business is one that takes into consideration how their practices effect the environment and society. These businesses try to lessen the negative impact they have by going green. They embrace alternative energy, like solar power, cut back on carbon emissions, recycle and choose the eco-friendly whenever they can. It is these little steps that make a big difference, leading to positive change for everyone.
We all know how successful branded promotional merch works as a marketing strategy, there's no denying it! But let's protect the planet and reduce our impact on the world in the process.

So order now to make the greener choice and don't forget to check out our full range of eco friendly merch.