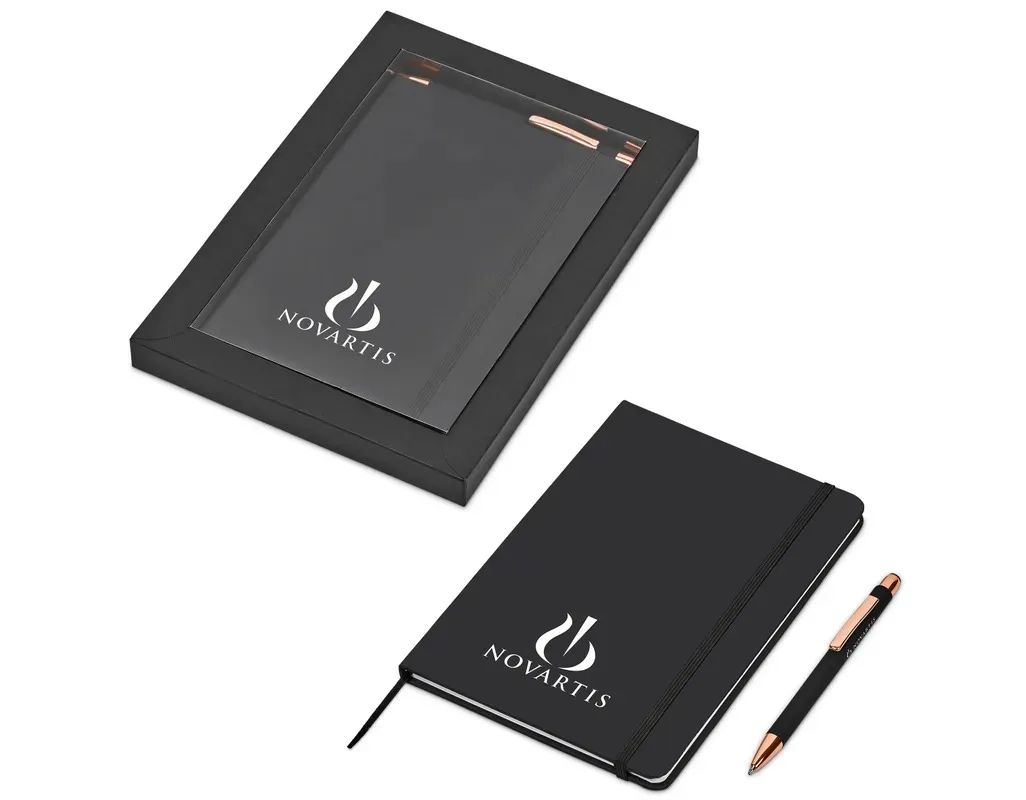 Monique Thompson-Green
Updated 04 December, 2023
The Ultimate Guide to Gift Sets: Strengthening Business Relationships through Corporate Gifting
Strengthening Business Relationships through Corporate Gifting
First impressions matter in the business world and corporate gifting is a powerful tool to help you achieve just that. Corporate gifting is a great way to build a strong brand reputation, and nurture working relationships- beneficial for your business across the board! Whether you want to show your appreciation to your staff and clients, add some motivation to the workplace or promote your business, corporate gift sets are a versatile strategy, curated for your convenience.
In this comprehensive guide, we'll explore the facts and features of corporate gifting and corporate gift sets, from the importance of corporate gifting to how to choose the perfect gift and everything in between.



1. Introduction
2. Understanding Corporate Gifting
Drinkware Gift Sets
Drinkware gift sets are a popular choice when it comes to corporate gifts because it is a very useful gift. These sets usually include some form of drinkware like mugs, glasses, water bottles and travel drinkware presented in attractive packaging. Our drinkware can be branded with your corporate logo and even personalised to suit your recipient:
Luxury Corporate gift sets
Luxurious corporate gifts are designed to show your appreciation to your employees and clients in a sophisticated way. Luxury gift sets often include premium and high-end products of the best quality. These gift sets reflect well on your brand and are bound to make your recipients feel valued: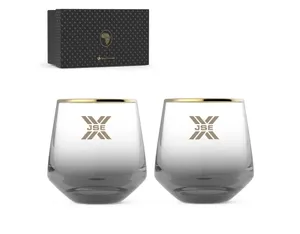 This chic glass set is a great addition to any home. This luxurious gift is made from the finest lead-free crystal to provide high clarity and brilliant glass. These glasses are premium, practical and the perfect gift set for your brand.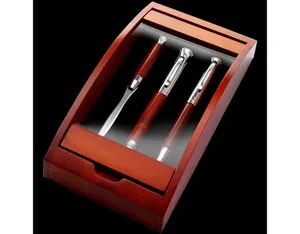 If you're looking for an elegant and sophisticated gift then look no further. Made from metal and rosewood this set consists of a black ink fountain pen, a letter opener and a fountain pen, packaged in a matching metal and rosewood display case.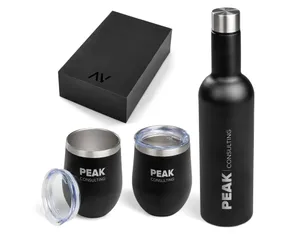 A double-wall stainless steel vacuum design can be seen in this luxury drinkware set packaged in a professional box. Consisting of a bottle and 2 tumblers this gift set is practical and can keep your drinks hot or cold for hours at a time.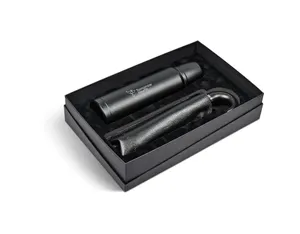 This luxury gift set is a pairing of a stainless steel vacuum flask and a stylish umbrella in an elegant 2-piece box with a velvet touch inner. This set will look fantastic with your company's brand and your recipients are sure to love it!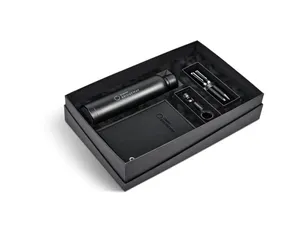 The height of sophistication comes in this gift set. A stainless steel vacuum water bottle, hardcover A5 notebook, ball pen and rollerball and a 32GB USB key holder come together to make this grand gift box that anyone would be sure to appreciate.
Cost-Effective Gift Sets in Bulk
Buying your gift sets in bulk can greatly benefit your business. It is a strategic and convenient way to save money, plan ahead, and have your products remain consistent and efficient. Take a look at a list of a few of our cost-effective gift sets that are available: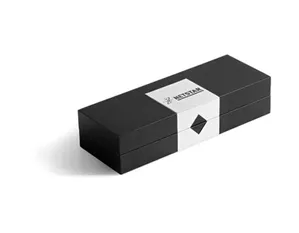 This gift set is a ball pen and rollerball set presented in a professional black box. With black German ink and brass and polished chrome plating, this gift set is cost-effective, practical and available to buy in bulk.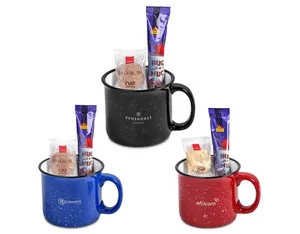 A warm cup of rich and creamy hot chocolate and a delicious biscuit in a mug make a great, cost-effective gift. You can customise the mug to suit your brand and it comes presented in a professional Serendipio gift box.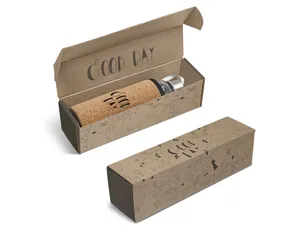 This Kork bottle from Kooshty is customisable to suit your brand and create a lasting impact. Made from glass, cork and stainless steel in a custom gift box this gift set is reusable, useful and a great eco-friendly choice.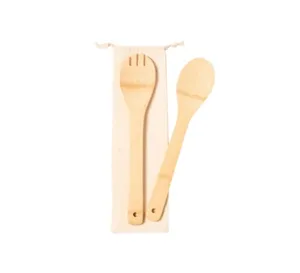 Made from resistant bamboo this 2 piece salad gift set comes packaged in a natural cotton drawstring bag. Branded with your logo this makes for a practical, eco-conscious gift.
Unique Gift Sets
Unique corporate gift sets are the perfect way for your business to stand out from the competition and make a lasting impression. These gift sets highlight your brand's creativity while rewarding the recipients for their dedication to your business. Be different, and choose a unique corporate gift set: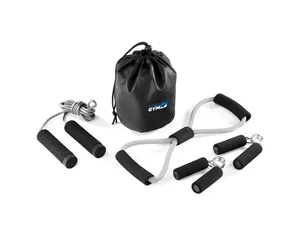 Consisting of a carry pouch, foam hand grips, foam bow-tie resistance and foam skipping rope this exercise gift set is an awesome choice if you're looking for a unique gift to promote healthy behaviour.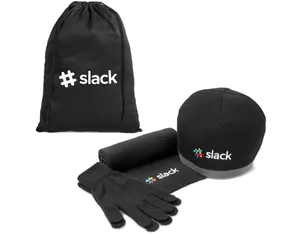 This winter warmer gift set is fantastic for fighting off the cold. Including gloves and a branded scarf and hat this gift set is great for brand visibility during the winter months.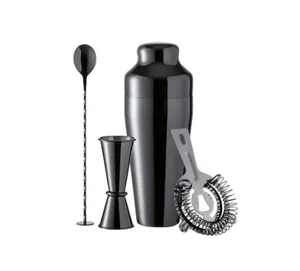 A cocktail set is a fun and unique gift. Made from stainless steel this set consists of a filter, mixer spoon, 2-in-1 measuring glass and a cocktail shaker this professionally presented set is the perfect choice to stand out from the crowd.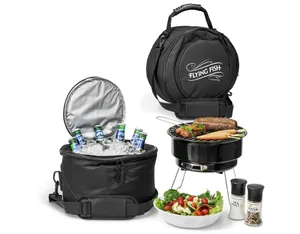 This unique gift set consists of a braai and a cooler! The braai folds away into the cooler bag for easy transportation which we are sure your recipients are sure to love.
Perfect for the summer time this gift set comes with a branded towel and flip-flops. It's unique, fun and great for brand visibility and brand reputation.
Thank You Gift Sets for Clients
Giving a gift set to your client as a way to say thank you is a thoughtful way to express your gratitude for their business and strengthen your working relationships. When choosing these client gift sets it's important to pick a set that is professional, thoughtful and shows your appreciation. Here are some ideas for corporate thank-you gift sets for clients: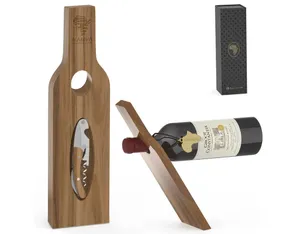 The Afrique Wine Set is designed to be a contemporary and sophisticated conversation piece. Including a wine stand and wine opener, this gift set is a great way to say thank you to your clients for their business.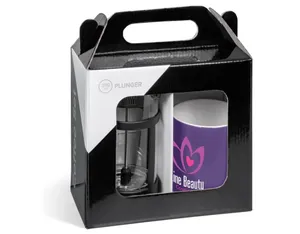 This uniquely designed mug set has a cosy matte surface which is perfect for laser engraving your branding on your mug forever. This set comes with 2 dishwasher and microwave-safe mugs and comes packaged in a grey Serendipio gift box.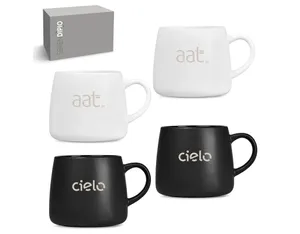 This uniquely designed mug set has a cosy matte surface which is perfect for laser engraving your branding on your mug forever. This set comes with 2 dishwasher and microwave-safe mugs and comes packaged in a grey Serendipio gift box.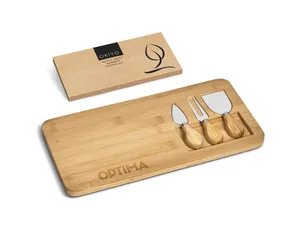 If you want to thank your clients in a unique and eco-friendly way then this is the perfect gift set for you. This cheeseboard gift set is made from sustainable bamboo and comes with 3 stainless steel tools with bamboo handles made for hard and soft cheeses.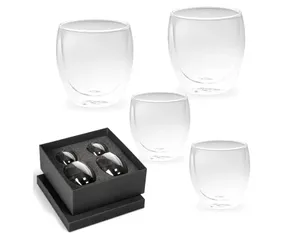 This glass coffee mug set includes 2 double wall coffee mugs and 2 double wall espresso cups which are presented in a beautiful, black box. Not only is this set useful but it is a beautiful and elegant addition to any house or office.
Appreciation Gift Sets for Staff
Appreciation gift sets for your staff are a wonderful way to express your gratitude and show your employees that you recognise their hard work and dedication. Appreciation gifts can boost work morale, increase employee satisfaction and motivate your team. Employee appreciation gifts are a great opportunity to say thank you and foster a positive work culture: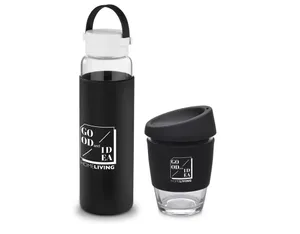 This Kooshty set is an awesome corporate gift for your staff. This 700ml glass water bottle has a silicone sleeve and removable infusion filter and comes paired with a practical Kooshty Kup with its colourful silicone lid and grip band. It's perfect to show your appreciation.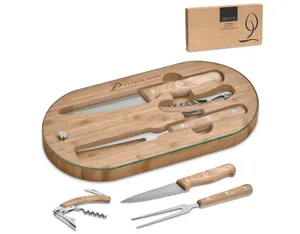 Bamboo, stainless steel and glass combine to make this beautiful, eco-friendly food and wine gift set. Including a corkscrew, carving knife, carving fork and packaged in a natural kraft gift box this gift set is a wonderful way to show your staff you value you.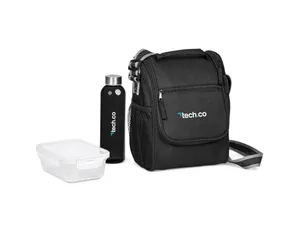 When it comes to lunch this gift set has almost everything you need! With a microwave-safe glass base and a snap-lock lid, this food container comes paired with a glass water bottle, packaged together in a spacious cooler bag made from RPET fabric (material made from recycled single-use plastic bottles).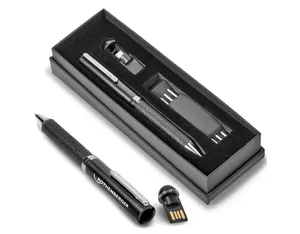 This gift set consists of an elegant Alex Varga pen with a 32GB USB attachment and 3 spare refills, all packaged together in a professional matte black box. The duality of this gift makes it a smart choice to show your employees how much they mean to you.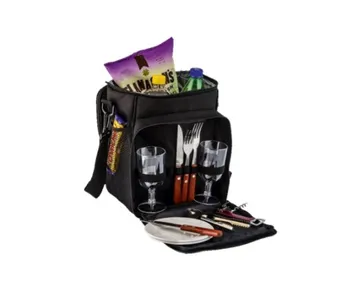 This 2 person picnic and cooler set has it all! With side mesh pockets for easy storage, an adjustable and removable shoulder strap and a cooler in the main zippered compartment this gift set is perfect for your staff. The picnic set also includes 2 plastic plates, 2 steak knives, 2 forks, 2 plastic wine glasses, 1 bottle opener and a pair of ice tongs.
Customised Gift sets for men
Customised corporate gift sets for men are a thoughtful way to show your appreciation for your male clients and employees. When selecting and customising this gift set it is important to consider the preferences, needs and interests of your recipient. Take a look at some of our ideas for customised corporate gifts for men: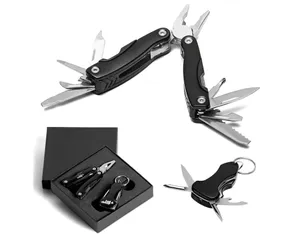 The Multi-Tool & Keyholder set is a great gift for any man. Consisting of a knife, different screwdrivers, a bottle opener, a saw, and a file, this set will be sure to make the men feel appreciated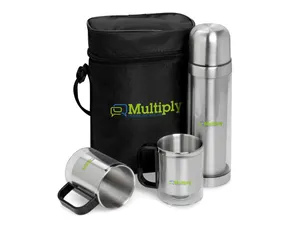 This gift set comes with a 500ml double-walled flask and 2 matching mugs in a black carry pouch with a shoulder strap. This is useful for hikes, camping and the great outdoors and the men are sure to love it.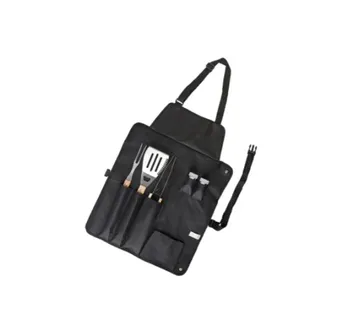 The ultimate braai set! This gift set comes with a 6-piece stainless steel barbeque set: carving fork, spatula, tongs, oven glove, salt and pepper set all in a nylon apron.