Blog
---
Picnic Bags South Africa, Picnic Cooler Bags Supplier in Johannesburg, Durban and Cape Town
Picnic Bags South Africa - We live in a beautiful country. There's no arguing on that point. This country has some of the most beautiful landscapes and such a varied climate that it would be downright criminal not to enjoy the outdoors every once in a while. And what better day to do that than to have a picnic? A picnic is a fun way to enjoy some time in the great wide world and still enjoy your lunch.
5 Best Picnic Bags
Avenue Picnic Cooler
Code: COOL-5140
A classic picnic basket with a fresh twist!
Features:
Gorgeous grey colour scheme
Contains x2 of each plates, glasses, knives, forks and spoons
Aluminium metal frame and handle
Large main compartment
This incredible picnic basket is so packed full of great features that it's surprising that there's still room for food. But with it being 45cm wide, 26cm deep and 29cm tall, there's plenty of room. The zip-down front pouch has all the cutlery and crockery that you need for a two person picnic, with a Velcro flap to keep everything inside. With a domed sticker for branding, it's a bright, fun complement to any picnic. For a full matching set, check out the Avenue Picnic Bag (COOL-5145) and the Avenue Wine Cooler (COOL-5150).
US Basic Prairie Picnic Cooler
Code: COOL-5110
Spacious and compact, this is a picnic set made for two.
Features:
Contains x2 goblets, knives, forks and napkins
Contains x1 butter knife and waiter's friend
Main zippered pocket
Adjustable shoulder strap
Top grab handle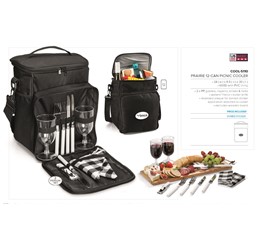 A picnic cooler needs to be able to hold anything that you can throw at it. What you want is a sturdy, good looking picnic cooler that can hold up to twelve cans. Or to call it by its proper name, the US Basic Prairie Picnic Cooler. With goblets, napkins, knives and forks, and a butter knife and bottle opener, it's got you sorted and there isn't even any food in there yet. That's all tucked away in the front pocket, leaving the main compartment free for all your delicious snacks. Conveniently sized at 24cm wide, 8.5cm deep and 30cm tall, it's made perfectly for two, and with an adjustable and detachable shoulder strap and a top-grab handle it's very portable. This is definitely an awesome bag!
US Basic Yukon BBQ Cooler
Code: COOL-5105
A BBQ set you're never going to want to be without, it's perfect for every South African.
Features:
Contains X3 Stainless steel and wood BBQ tools
Contains X2 Steak knives and forks
Contains Salt and pepper shakers
Contains X1 wooden board and waiter's friend
This is a serious cooler! At 24.3cm wide, 18cm deep and 30.5cm tall, it can hold up to 30 cans, has a side pocket for extra storage and a front pocket that holds cutlery, a chopping board, salt and pepper shakers and, tongs, a spatula and a two-pronged fork for turning meat. This cooler contains all the essentials for an amazing BBQ. It's available for domed sticker branding and has an adjustable and detachable shoulder strap. With a cooler this highly in demand, can you afford not to put your name on it?
Avenue Picnic Bag
Code: COOL-5145
Chic and modern in gorgeous grey, this cooler bag is an awesome gift.
Features:
Contains x2 plates, glasses, knives forks and spoons
Contains x1 waiter's friend bottle opener
Shoulder straps
Aluminium foil lining
Zipped main compartment
Zipped front compartment
There aren't nearly enough words to say how good this picnic bag looks. Shaped like a backpack for your convenience, discover just how magical a picnic for two can really be! 26cm wide, 18.5cm deep and 35cm tall, it's compact and portable while still having everything you need tucked inside its front flap and all your food in the main compartment. It has an aluminium lining to keep your food cool and fresh. This stunning bag makes a fantastic stand-alone item, but there are two more items in this range if you can't get enough of the Avenue collection, the Avenue Picnic Cooler (Cool-5140) and the Avenue Wine Cooler (Cool-5150). And who could blame you? With coolers this beautiful, you've got to have them all!
Bastille Picnic Backpack
Code: BAG-47
In a soft stone with black trim, this superb bag is the ultimate in picnic accessories.
Features:
Contains x4 melamine plates and tumblers
Contains x4 knives, forks, spoons and napkins
Adjustable shoulder straps
Padded back
PVA lined cooler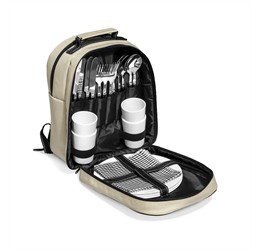 This ingenious stone backpack cooler is everything you could ever want in a picnic bag. At 25.5cm wide, 17cm deep and 35cm tall, it's got ample space in its U-shaped zippered compartment. It has a strong top-grab handle and adjustable shoulder straps, and is ready to go when you are. The black piping along the seams highlights the 12cm branding area on the front of the backpack. This four-person picnic set is an excellent high-end gift.
Picnic bags are one of our best selling end of year gifts every year.
ORDER NOW.