Blog
---
Branded Corporate socks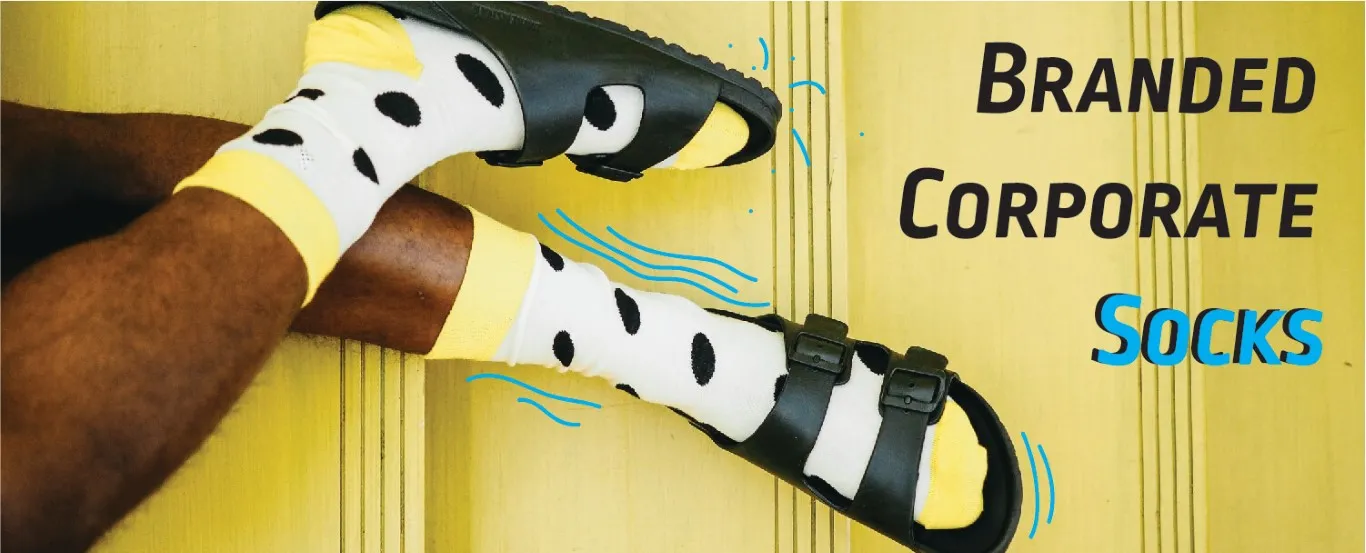 Corporate branded socks are great marketing items for many companies.
How cool would it be to give branded socks to your clients?
This would be a great branding tool for your brand.

Why are corporate socks great marketing tools?

Branded corporate socks expose your brand. Billions of people in corporate offices and other industries wear closed shoes to work.
This can be a great way to expose your brand. Every time a consumer takes out a pair of socks and slips them on, they will constantly be reminded of your brand.

Promotional socks for sports events

Promotional socks can be part of sports goodie bags. This can be an excellent way to expose your brand by supplying socks to work industries and sports teams.
Every day when your consumer is getting ready for a sports game and they slip on their socks, they will constantly be reminded of your brand.

Promotional socks for goodie bags

You can target a few sporting events like rugby games, local soccer tournaments or Cape Town marathons. These are great ways to get your brand recognized in the public's eye.

Funky branded corporate socks

Funky socks with different colour patterns and design can be something different to wear in the office. Wearing funky socks in the office can spark up some attraction and interaction. Funky colours can add some colour to your overall outfit.

Funky socks for team building events

Having matching socks as a team and showcasing a picture or two on social media can represent a fun side of a team. This can attract people to your brand and gives off a pleasant impression of who your company is.

Branded socks made in South Africa

The lead time on our branded socks is approximately 4 to 6 weeks, depending on the season and the factory production.
The benefits of using funky socks
Funky socks are attractive and colourful
They can be used at music festivals and dress up parties
Bright colours and vibrant patterns
Funky socks are great for team building activities.

Branded socks as a corporate gift

Personalizing a pair of socks as a corporate gift can be a great idea for your clients. You can impress your clients with a pair of ankle or long socks. When a gift is packaging in a lovely presentation box or wrapped, it's a great way of presenting a gift. Packaging a product in a gift box shows your clients that you took the time to make an effort of making this gift be special.

Promotional socks

Promotional socks can be potential giveaways. They can be used in competitions at sporting events or in the office. Your brand can organize a competition on social media where consumers can win more than one pair of socks.
This can be a fun way for consumers to engage with your brand online.
Schools, universities and local marathons are ways to promote your brand. Having a competition at local charities and marathons can excite consumers to win a free giveaway.

Promotional socks for special events

Giveaways socks can be a potential campaign to consider for a business. But you can plan a sponsorship budget. Consider how much money is your business willing to sponsor towards an event.
A business can approach the organizers of an event to understand their sponsorship levels. Once you have this plan in place then you will be able to plan a cost-effective way of sponsoring an event with a certain amount of socks.
A business can target sports events and sponsor a certain amount of ankle socks to athletics or runners. Promotional giveaways can help businesses to improve brand recognition.

Contact us today to assist you with your branded socks to make your team look great!
Enquire