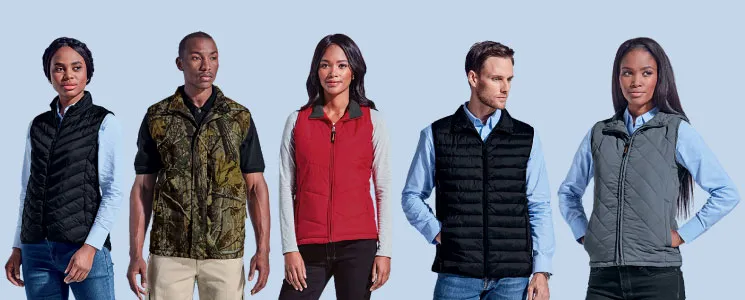 Mariska Venter
Updated 02 November, 2021
Keep your body warm & arms free with stunning body warmers from Brand Innovation
Whether you work in an office or outdoors, a
body warmer
would be the perfect alternative for you if you find it difficult working in a bulky jacket.
Investing in stylish body warmers for your staff and for valued customers will earn you the kind of goodwill every business needs, especially in the challenging economic situation we find ourselves in.
Things were already tough with the embattled economy we found ourselves in by late 2019, but with the advent of the Covid 19 pandemic, everyone found themselves struggling to keep head above water.
This is when
branded corporate clothing
becomes an investment that even small to medium businesses, minus massive advertising budgets, can afford.
The benefit in gifting clients with branded corporate clothing is extensive, as these
promotional items
last a long time, and few people will turn down the gift of something to keep them warm in winter and snug on chilly spring days.
If you're going to be gifting a customer or supplier with something like a branded body warmer, you will need to do a bit of homework. This will be in terms of gathering information on sizes, as well as finding out how many ladies and men you'll be supplying with this awesome gift.
The team at Brand Innovation is geared towards making your
corporate gift
shopping as easy as possible. They have been in the industry for many years, which ensures that you're in the hands of professionals who are passionate about what they do.
Ultimately, the success of Brand Innovation is based on the continued success of their clients; along with the infectious belief this team has for a brighter and better future for South Africa than most have.
Considering the massive range of body warmers this team has chosen to represent, you may have difficulty deciding on colour and style, however, with their creative vision, the team will take your ideas and refine them to the point where you'll be able to make an informed decision which will boost your brand as it should.
Naturally, you'll need to select colours and
branding
that not only puts your brand in the spotlight, but that complements the brand of your client as well.
There is enormous power in branding, and if any team can harness this power, it's the team at Brand Innovation, using taste and style in finding solutions that will meet your branding needs perfectly.
Talking about harnessing power, Brand Innovation is one of the few companies fully committed to
green business
practices. Not only do they provide eco friendly branded marketing products, they also do all they can to reduce their own carbon footprint.
You know you're dealing with real integrity when you work with a team like this that has invested in solar energy, consolidated a water-wise system that saves every drop and collects more from rain tanks.
The reason that branded
corporate gifts
and clothing is still around, is that there are few other forms of raising brand awareness as cost-effectively as branded promotional gifts do.
If you want to make the most of your advertising budget, bring it to the team at Brand Innovation and watch them work their magic to make the most out of your investment, which will be one that will bring you phenomenal returns in the long term!
Contact
Brand Innovation today to get your brand on the map! No matter where you are in South Africa, you can rely on this team to produce all you want, and then some!