Blog
---
Promotional Sunglasses for your Marketing Campaign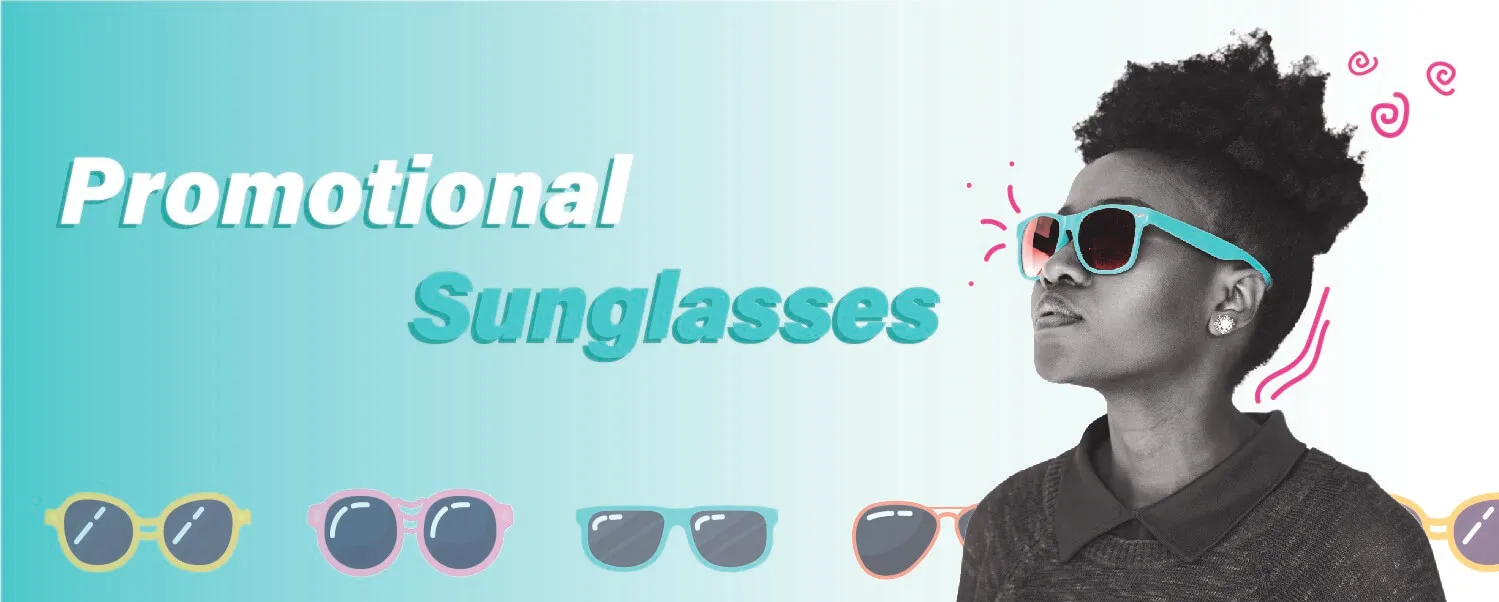 Promotional sunglasses are great marketing tools. They are perfect for brand exposure and
fun times in the sun. Promotional sunglasses can be a fun way to market your products.

They are cost-effective depending on the type of glasses you want to brand.
Businesses and brands can bring in fun and practicality by using branded sunglasses as part
of their marketing campaign.
They brand sunglasses with their logo and target customers.
Festivals are a great place for branded sunglasses to get great exposure.
So, for example let's say consumers attend beer festivals and they enjoy beer tasting. Then
they could brand sunglasses that have a beer design on them.
This could be a fun way to engage with their audience. You can get creative by choosing or
creating different sunglass designs. Your brand can target festivals, running marathons,
music festivals and so much more.
Billions of people enjoy wearing sunglasses. They are stylish and trendy. They can be the
ultimate finishing touch to your outfit. Certain sunglasses can protect for you from the sun.
Sunglasses as a mass giveaway
Promotional sunglasses are great ways to customize your company's logo on it. Promotional
sunglasses can advertise your business to a wider audience. Promotional sunglasses can be
used as giveaways at festivals and events. Billions of people enjoy competitions and free
giveaways. So how about having a competition at an event and the prize will be the free
giveaway item. This way consumers can engage with your brand.
Promotional sunglasses on social media
Have a social media competition. Post an image with two or more sets of sunglasses. Once
people see your post, they will start to get involved. You can post simple instructions where
users must like, comment and share the post. This will increase the traffic on your social
pages.
You could even post a question on social media about your brand and then users will have
to answer it by visiting your website. Whoever answers the question best will win a set or
two of sunglasses.
Branding sunglasses
Branding your company logo is an opportunity to get more recognition. Don't just hand out
a free giveaway. Brand your company logo. Or put your company details on it. This way
people will see your brand constantly. This way you can get increase awareness and get
noticed.
Every time consumers slips on a pair of sunglasses; they will be reminded about your brand
constantly. So, branding a pair of sunglasses could make those customers come back for
more. Branding products and gifts can help consumer reminder you, that's the beauty
about branding. It creates an ever-lasting impression on the customer. Sunglasses are great
gifts to hand out. They can be really useful when you out about going to the beach. The
lovely fact about sunglasses is that they protect you the suns harmful rays. So, they can
always be of use in your everyday life, especially during summer.
The Best Promotional Sunglasses
There are many sunglasses that can be regarded as the best seller. But I like the beer glasses
because they can be used for beer festivals. They are creative and very attractive. They can
be used at parties and functions. For corporate functions and events, I would recommend a
more modern kind of look.
Personalized Sunglasses South Africa
Personalized sunglasses are great gifts to receive. How cool would it be to have your name
on a pair of sunglasses? I'm sure many people would appreciate the effort of a company
going out of their way to personalize a gift.
Personalized Sunglasses For Clients
Personalizing sunglasses can someone feel special and appreciated. So, let's say you have
loyal clients that have been a part of the business for many years. You could personalise a
pair of sunglasses with your client's name on it to make them feel special and appreciated.
This way your clients can feel special and appreciated. By giving your client a personalized
gift with their name on it can even strengthen your relationship further. This can even grow
a bigger bond between you the client.
Types of promotional sunglasses
Beer glasses
Black sunglasses that includes a mirror lens finish
Plastic sunglasses
Plastic sunglasses with different colour accents
Metal sunglasses
Sunglasses with a visor
Wooden framed sunglasses
Standard plastic glasses
Sunglasses with coloured sides
Microfibre sunglass pouch
Standard black sunglasses
The benefits of promotional sunglasses
They are stylish and trendy
Sunglasses are great when it comes to reducing the sun's glare
Sunglasses can help you look good and feel good
They can be great for beach days
Sunglasses can give you a more comfortable vision when you're in the sun
Sunglasses can be a fashion accessory so if you're wearing a suit, you can wear a modern pair of sunglasses to finish off the look.
Promotional sunglasses for outdoor concerts
Billions of people enjoy summer concerts. The musical atmosphere is a great way to just sit back and relax while listening to music. Music concerts gives us some entertainment to laugh about. Think about the Kirstenbosch Summer Concerts? This could be a potential marketing campaign.
Depending on a company's budget and performance, sponsoring an event could be a potential way to increase brand recognition. First plan a sponsorship budget. Then take action by sponsoring a certain number of promotional sunglasses to outdoor concerts. Consumers can use a pair of glasses for more than one occasion. Branding a company's logo on a pair of sunglasses can remind consumers of who your brand is.
Order your printed sunglasses online now.
Email us
or call us on
0861 111 954
for a free quotation.
Brand Innovation Delivers Countrywide!
Request a Quote
Browse Sunglasses
Enquire