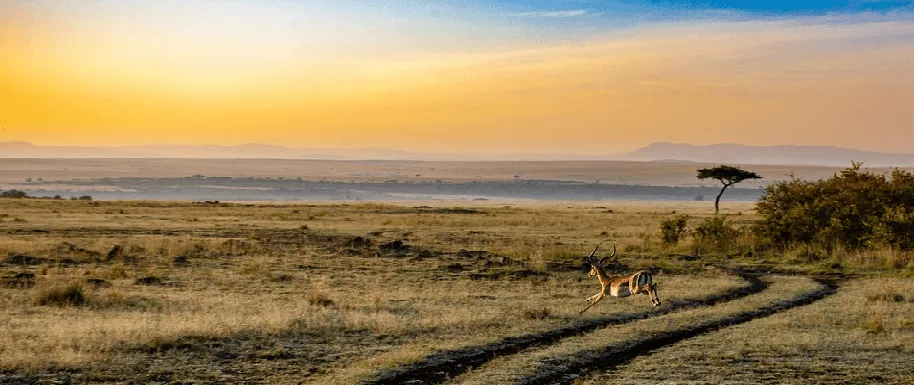 Ginam
Updated 02 September, 2020
Safari Clothing For Game Lodge Staff To Blend In With The Bushveld
Safari clothing that is authentic is synonymous with the real African safari experience. Browse our professional outdoor wear and bush clothing!


At Brand Innovation we want to ensure that our customers walk away with everything they need and more. That's why we've put together an expert guide to safari clothing in South Africa to make your life just that little bit easier.

We're going to tell you all about:

- Branded safari clothing for excellent brand exposure
- The history of safari clothing
- Why safari clothing is ideal for bush work
- The perks of using safari clothing for corporate gifts
- Special tips for ordering branded safari clothing
- Our safari clothing and all their special features, including:
> Ladies' short-sleeve bush shirts
> Ladies' long-sleeve bush shirts
> Men's short sleeve bush shirts
> Men's long-sleeve bush shirts
> Other safari garments

Branded Safari Clothing For Excellent Brand Exposure

In addition to giving your staff comfortable, smart and practical clothing or providing employees or clients with a thoughtful and useful corporate gift, you want to achieve excellent marketing for your business.

Branded shirts are a highly effective way in which to market your brand because they're:

- Seen by loads of people every day
- Worn comfortably by everybody
- Available in a range of different sizes, styles and colours
- Cost-effective
- Kept forever

...and anybody wearing your branded shirt becomes a walking billboard for your company

What makes branded safari clothing especially unique?

- Stands out in a crowd (ironically)
- Associated with quality and prestige
- Makes people think of happy holiday memories!
- Comfortable, stylish and durable

So if you're wanting to gain highly effective marketing quickly and easily, branded clothing is the way to go. Specifically, branded safari shirts are always a winner.

Tracing The History Of Safari Clothing

What do you think of when you hear the words "khaki" and "safari"? Taking a wild guess, we'll assume it goes something a little like this:

Sitting in a comfy camping chair under the searing, afternoon African sun, there's nothing but the rolling hills of the bushveld as far as the eye can see. With nothing but the sound of birds chirping in the distance, you sip on an ice-cold beverage to welcome the evening's much-anticipated relief from the sun.

Of course, in this fabulous fantasy, you're dressed in the best of the best safari gear, ensuring that even the wild animals lurking in the shadows will notice your commitment to both efficiency and style.

Clearly, South Africans love a good holiday, especially if it means leaving the electronics behind and escaping to the bush. In fact, we love these getaways so much that the use of safari clothing in professional uniforms has become incredibly popular.

There's just something about a good safari shirt that allows you to connect to your home away from home even when you're miles away, sitting in front of your computer in the office.

Unfortunately, we don't have the technology to transport you to the middle of nowhere in the blink of an eye when everything gets to be too much - we're still waiting on the invention of teleportation devices (what a drag!). But until then, we can offer you the next best thing…

Brand Innovation supplies an excellent range of safari clothing - including lots of different types of safari shirts - to remind you of the tranquillity of the bushveld.

But first, have you ever wondered where our intrinsic connection to the wild African landscape comes from? Perhaps you've wondered how the term "khaki" came to be such a commonly used word in the English language.

Well, it's actually an interesting story, and we're going to give you the lowdown.
The Origins Of Khaki Clothing
The first known use of
khaki clothing
was by the British colonial troops in India in
1848.
Before this, the British Army was renowned for its woollen, cherry red coats, making their soldiers hard to miss during combat.
However, when the English started their occupation in India, their
go-to getup
wasn't exactly ideal for their new environment. Although the bright coloured jackets were historically significant to the British and existed as a prominent symbol of their
imagined superiority
over Indians and pretty much
everybody else
, this was a battle they had to surrender.
There was no doubt about it - the redcoats were in desperate need of an
outfit change.
Like many things that arose during the colonial era,
khaki-style uniforms
were not an originally English epiphany. The story goes that while the
Corp of Guides,
a specific unit led by
Henry Lumsden
, was actively participating in combat they witnessed an absolute brainwave by a few Indian gentlemen who fought alongside them.
Soldiers tended to suffer poor visibility while fighting due to the production of smoke from their old-school weapons. Naturally, it became a huge advantage to be able to remain undetected. While the English stood out like sore thumbs, their savvy and sensible Indian counterparts smeared their lightweight cotton outfits with soil and other dark substances to create what we know today as the
khaki effect.
An absolute revelation to the British Army, the age-old red coats were put aside in India and replaced with the first-ever official
khaki military uniform
in 1848.
Although
khaki-style
clothing isn't often attributed to the innovative Indian men who gave it life so many years ago, the very term "
khaki
" is, in fact, a colloquialism of a word that has its origins in Hindustani. The Hindustani word translates to "soil-coloured". Makes sense now, doesn't it?
While the modern
khaki military uniform
was widely used in India in the years that followed, the British army occupying other parts of the Commonwealth were
still
clad in their bright and impractical ensemble. Whatever the reason, the red coats stuck to the English like a bad habit.
It wasn't until many years later during the
First Boer War
in South Africa in 1880 that the
khaki uniform
made its next appearance. Although it wasn't
officially
adopted during this mid-19th century southern African conflict, the utility of the natural-coloured clothing became undeniable.
Eventually, in the period leading up to the outbreak of the
Second Boer War (
or the
South African War
as it's commonly referred to these days), the British gave in and hung up their (red) coats (both literally
and
metaphorically). In 1899 the English patented the
Khaki
-coloured dye and it was slowly but surely adopted throughout the British Empire.
The British military uniforms used during both the
First World War
and the
Second World War
were modifications of these early,
khaki uniforms
developed in the 1800s.
Read a more detailed history of khaki clothing here
or the
etymology of the word "khaki" here.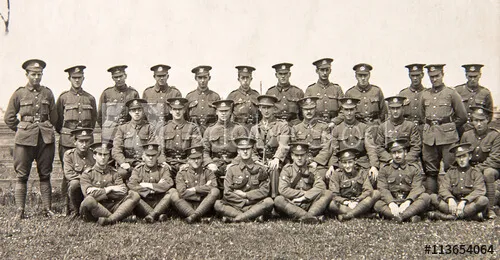 What a history!

Why Safari Clothing Is Ideal For Bush Work

Now that you know where khaki and safari clothing come from, we're ready to dive into something a little closer to home - safari clothing for bush work.

It goes without saying, if khaki clothing worked for military men whose lives depended on it in the 19th century, it's most likely going to be a good option for camouflage in the bush (especially when there's not quite so much at stake!).

If you're looking for a modern and functional uniform for staff working in nature, there are so many reasons why safari uniform is the ideal choice for you:

- Blends in with the natural environment
- Doesn't startle wildlife
- Looks professional
- Suits the outdoor, bush aesthetic. Tourists will love it, especially foreigners!
- Robust material suited to the harsh environment - this will save you from constantly replacing uniforms!
- Several open flaps making outfits breathable in the African heat
- Darker/brown colours reduce the visibility of dirt on clothing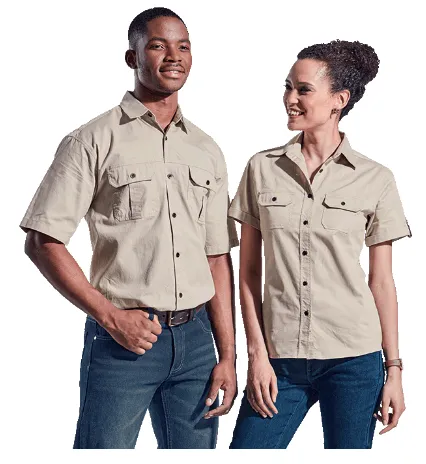 Anybody working in the great African outdoors needs to be kitted out in the latest khaki uniform, and Brand Innovation has a range of safari clothing in South Africa to ensure you're ready for any occasion.

If you're on the lookout for safari uniform shirts for your staff at the lodge or safari guide shirts, we have a few awesome options:

- Safari polo shirts
- Safari golf shirts
- Safari printed shirts
- Safari hunting shirts

Of course, we also offer excellent branded safari shirts to ensure that everybody - from your foreign visitors to the majestic creatures they come to see - will know your name.

Since visiting a game lodge and going on safari in Africa is a bucket list occasion for so many tourists visiting our beautiful continent, souvenirs are, unsurprisingly, very popular.

Why not sell stylish, branded bush clothing bearing your name to satisfied customers so they can go home and tell their friends that they not only tell but also show their jealous friends and family that they had the experience of a lifetime?

This is a wonderful way to ensure that their experience will not only be special and memorable, but your name will be one they'll never forget. Who knows, perhaps you'll be hosting their mates in the near future!

Safari Clothing As The Perfect Corporate Gift

These days, bush clothing has become far more versatile than before. Not only does it provide maximum functionality for those working outside in the elements, but it's also ideal for anybody in the corporate world.

Whether you'd like safari shirts to add to your corporate uniform or safari golf shirts to kit out your employees while they play eighteen holes and network afterwards, Brand Innovation has options for you.

As an added bonus, our safari clothing is so snazzy and comfortable that your employees are sure to be keen to wear your branded safari clothing at leisure too. This will do wonders for your marketing efforts!

Offering safari shirts for men and safari shirts for women, we can ensure that you'll walk away with exactly what you need.

Gifting branded safari clothing to employees clients can provide your business with excellent brand exposure. Khaki is supposed to camouflage its wearers in the wild, but it'll certainly catch the eyes of passers-by. Although you're likely to fall victim to a classic "where's your shirt?" dad joke or ten, we guarantee it'll be worth it.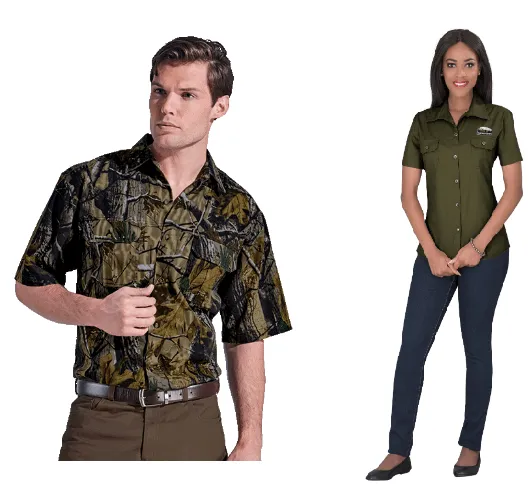 Special Tips For Ordering Branded Safari Clothing
It's important to us that you are 100% with your Brand Innovation clothing, so we're going to give you a bit more information on branding your safari clothing so that you can make an informed decision.
Branding areas
Although the branding areas may differ slightly from shirt to shirt depending on additional pleating, pockets or other detail, most shirts provide the same options.



Reminder: these are general branding areas. Branding options may differ depending on the style and fabric.

Some other important things to bear in mind:

1. Branding options available depend on several factors

Such as:

- Fabric
- Price
- Grammage

...and other important factors.

2. Embroidery on shirts

Generally, we do not recommend embroidery on shirts with low grammage because often it is too heavy for the fabric.

As a result, the overall quality and appearance of the garment may be compromised.

This will differ from garment to garment depending on fabric and grammage. We'd be happy to discuss your options with you.

3. Branding areas

Why these specific branding areas?

For the clearest and most effective branding, your artwork needs to be displayed in the most visible places.

In addition, branding over seams and other detail compromises the quality of the appearance of the branding which is why we stay away from side panels and other similar areas.

4. Ordering staff uniform

If you're ordering branded safari clothing for staff uniform, we recommend that you purchase at least three for each employee.

This would benefit your staff because they won't have to do laundry every day - what a drag!

It'll also be great for your company image in the long run because the garments will last longer and look fresh.

Our Safari Clothing And Their Features
Ladies' Short-Sleeve Bush Shirts

We supply a range of stylish ladies' short-sleeve safari shirts that'll ensure comfort in severe heat.

Ladies' Short-Sleeve Oryx Bush Shirt: ALT-OXLS

This stylish, fitted ladies' 160g safari shirt is perfect for women working in the bush. Not only does the Oryx offer great quality, it is available at an exceptional price and would be perfect for safari uniform.



This cotton shirt is available in four practical colours:

- Navy
- Stone
- White
- Military green

The ladies' short-sleeve Oryx Bush Shirt offers multiple branding options:

- Direct digital transfer A5 or A6
- Embroidery (estimate only)
- Screen Printing

Ladies' Tracker Shirt: LB-TRK

Comfortable and of excellent quality, the ladies' tracker shirt would make for great branded safari clothing to give to employees or clients as corporate gifts.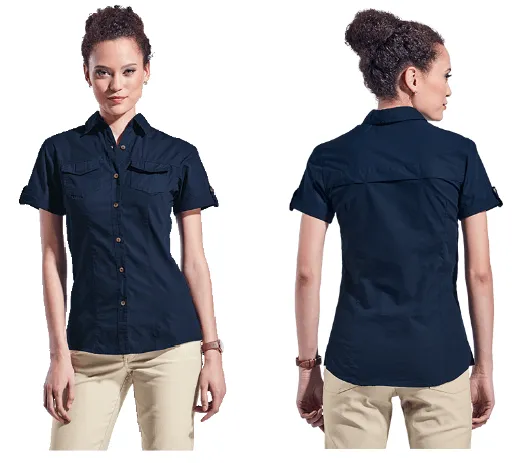 Best features:

- 100% cotton
- 120g
- Stylish turned-up sleeves
- Back vent with mesh inserts for ventilation
- Two chest pockets

The Ladies' Tracker Shirt is available in navy and stone.
Ladies Long-Sleeve Bush Shirts

If you're looking for ladies' long-sleeve bush shirts that strike the perfect balance between looking professional and being outdoor-appropriate, we have some great options for you.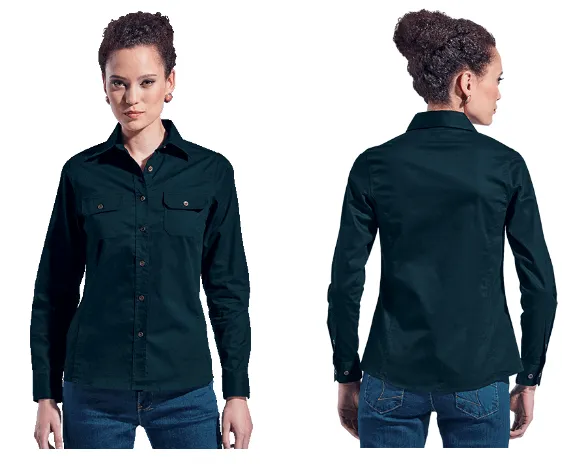 Ladies' Bush Shirt Long Sleeve: LLLO-LBUSH

Achieving both a professional and practical aesthetic, the Ladies' Bush Shirt Long Sleeve is a great item to use as a branded corporate gift.

Main features:

- Two chest pockets
- Carefully shaped panels for the most flattering look
- Adjustable cuffs

Made of the very best 100% cotton twill fabric, this shirt will keep you covered without having to suffer from the sweltering heat.

Ladies' Long Sleeve Oryx Bush Shirt: ALT-OXLL

This cost-effective and snazzy long-sleeve would make an excellent safari uniform during the colder months of the year or for night-time use.

Features:

- Made of comfortable 100% brushed cotton twill
- 160g
- Stylish metal buttons
- Two chest pockets



Available in four appropriate colours:

- Stone
- Navy
- White
- Military green

With this shirt, you have a few branding options:

- Digital direct transfer on A5 or A6
- Embroidery (estimate only)
- Screen printing

Men's Short Sleeve Bush Shirts

Whether you're looking for great quality safari shirts to use as corporate uniform or for corporate gifts, we have some excellent options.
Men's Short Sleeve Serengeti 2-Tone Bush Shirt: ALT-SGMS
This well-priced short-sleeve is an absolute safari classic that'll have your visitors wanting their own!

Available in a few different colours:

- Stone with military green panels
- Military green with stone panels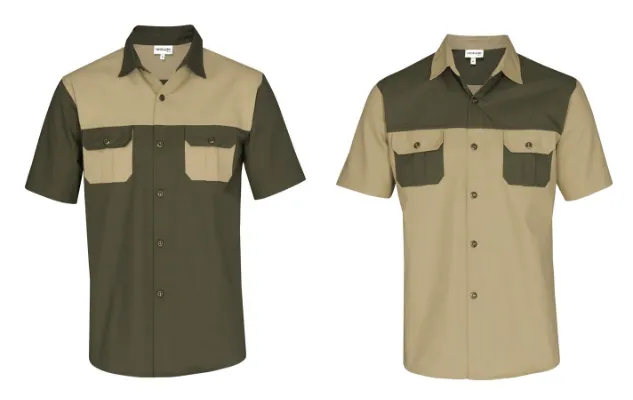 Some the Serengeti's greatest features:

- Really well-priced - perfect for uniform!
- Classic look
- 160g
- 100% brushed cotton twill
- Two chest pockets
- Snazzy metal buttons

Lots of different branding options for your convenience:

- Digital direct transfer A5 or A6
- Screen printing
- Embroidery (estimate only)

Men's Plain Bush Shirt: LO-BUSH

The Men's Plain Bush Shirt is an awesome garment if you're looking for something simple but attractive.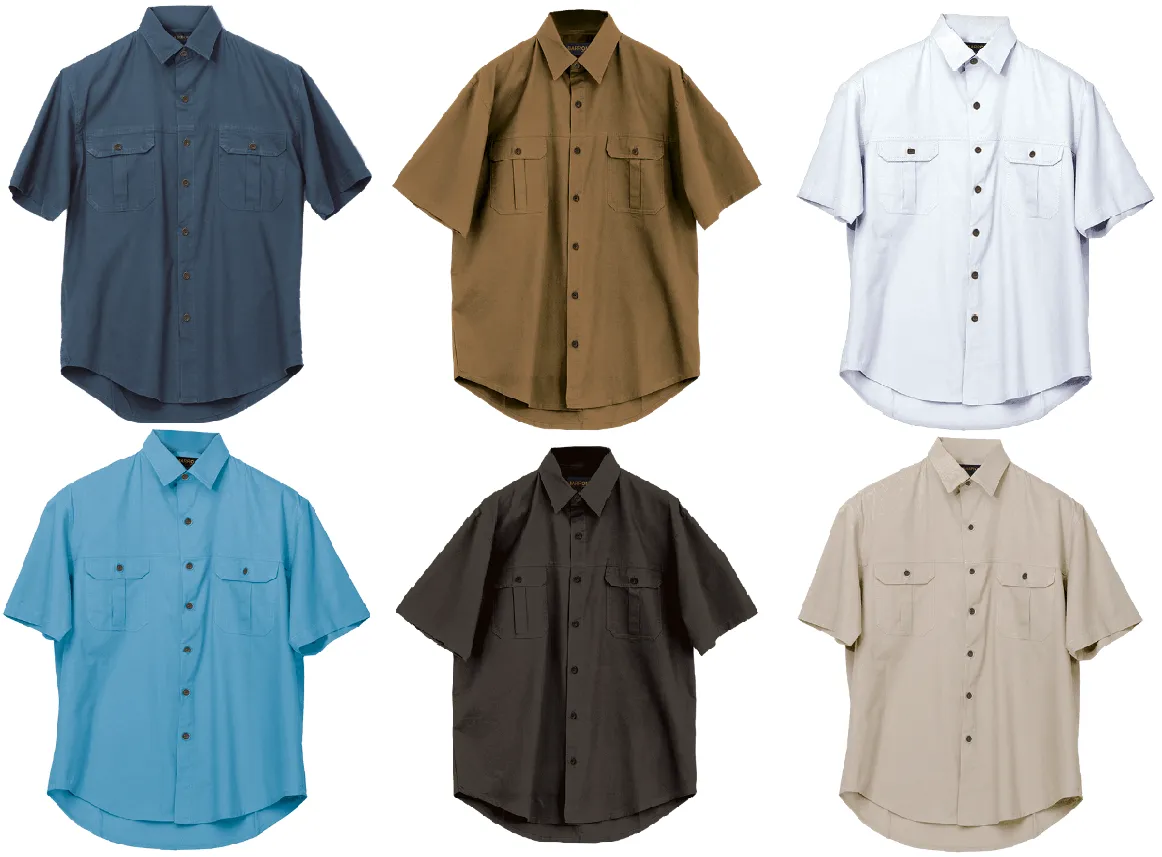 Features:

- 100% cotton twill material
- Fabulous metallic buttons and two pleated chest pockets
- Extra strong and durable stitching

Available in several great colours:

- Airforce blue
- Dusk blue
- Kalahari
- Navy
- Safari
- Stone
- White

This shirt is an absolute crowd favourite.
Men's Long Sleeve Bush Shirts

Both professional and practical, men's long-sleeve bush shirts can be ideal for staff uniform or corporate gifts.

Men's Indiana Stretch Long-Sleeve Shirt: LLO-IND

This 97% cotton and 3% spandex shirt provides maximum comfort for active days.




Available colours:

- Grey
- Stone
- Navy

Special features:

- 120g
- Half sleeve roll-up
- Discreet front chest pockets
- Back vent opening with mesh lining
- Stretch fit

Men's Long Sleeve Oryx Bush Shirt: ALT-OXML

This well-priced, great quality long-sleeve shirt would be perfect for staff uniform, especially when it gets chilly.
This 100% brushed cotton twill shirt is available in four safari colours:

- Military green
- Stone
- White
- Navy



Special features:

- Snazzy metal buttons
- Strong seams for extra durability
- 160g
- Two pleated chest pockets

Other Safari Garments
Why not make sure your employees are completely kitted out with
safari headgear
to ensure that they're protected from the sun their long days outdoors?
Brand innovation has a great range of safari-appropriate
hats.
View our outdoor headgear now.

Let Us Set You Up With The Perfect Branded Safari Clothing
Every game lodge has its own
unique needs and branding requirements.
Brand Innovation
stocks
a wide range of bush shirts
for those that are ready to kit to their staff up for the season. Whether you're looking for
safari clothing in Cape Town, or Johannesburg or anywhere in South Africa
, we'd love to help you.