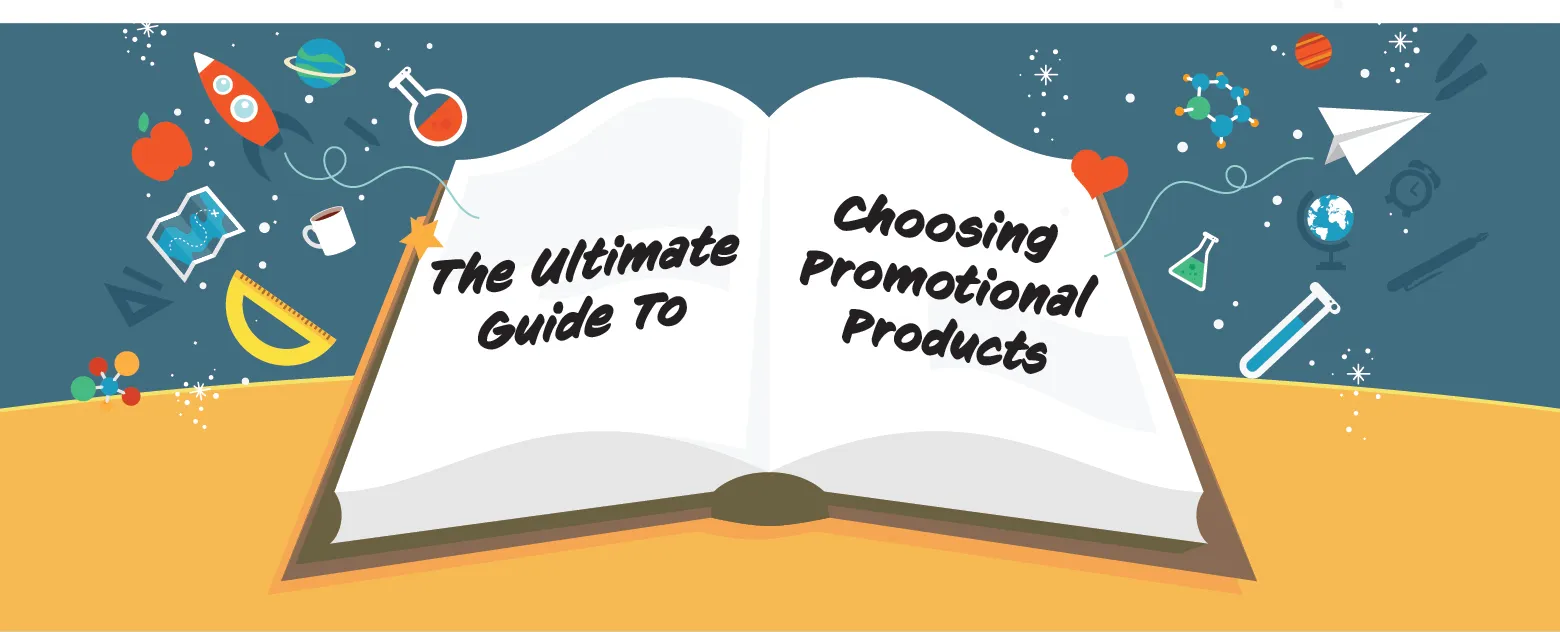 The Ultimate Expert Guide to Promotional Products in South Africa
The ultimate guide to choosing professional products is to help you choose promotional products and to see the benefits thereof.

Promotional products really do grow your brand and help to keep your existing customers knowing how valued they are. The value of promotional products is enormous.

Promotional products should be part of your marketing strategy and your marketing mix. The importance of branding and brands knows no bounds.

Our intention is writing this guide is to assist business owners and those in the marketing field to use promotional products as part of their marketing strategy and the company's marketing mix.

We want to help you choose the right products for your marketing and also the right products for your budget.

Branded promotional items go hand in hand with other marketing. This is a expert and useful guideline on how to use promotional products as an excellent marketing tool.

All of this if implemented, will gain you customer loyalty and appreciation.

Our focus is also always on existing customers first. Look after your existing customers, attend to them first and make them feel like VIP's.
Whatever you do, stay in touch with your existing customers regularly and consistently. Otherwise your customers might leave you if approached by your competitor. So, they might not have left you for bad service, but because they have felt that their business does not matter that much.

How many of you are reading this and can think to yourselves, flip, I really should have contacted that client this month, I have not been in touch for a while? Chances are that you might have a few clients who are feeling like you have forgotten about them.

Think about it, you might have left a supplier, a bank, telephone company, car company, not because of poor service, but possibly because you felt that they did not value your business enough.

So, let your customers know that their business is important to you.
Promotional products can be an interesting and thoughtful way of doing this. Also, make it a promotional product that people will use a lot, so you stay top of mind.

So, for example, one business I know, has beautiful inexpensive, but smart looking pens engraved with their company name on one side and VIP on the other. They then give these pens to valued clients. The pens also take a generic refill so that clients can refill them. The gifts are of a superb quality.

So, the main message throughout this book is consistent, constant communication with your customers. If you decided to contact them once a month, then don't forget a month. If you decided to do it weekly, then make sure you don't forget a week. Promotional products should be part of this strategy.

Giving excellent caring customer service will ensure you keep your existing clients.

They then refer new customers to you.

Of course, in today's age, social media and SEO is vital too.

So why is this book not only on promotional products? Because I want to help show how promotional products can fit well into your marketing strategy.

No part of your marketing can be looked at in isolation. One has to see how it can all fit together. But all too often promotional products are neglected.

Also, I am amazed when I speak to a business owner who tells me that they still don't have a website. Get a basic word press site set up. Then learn how to update the website yourself.
Brand Innovation offers physical and catalogues of promotional gifts that can be used for corporate gifts, freebies on social media and promotional giveaways.
Why Use Promotional Products?
Some people might say, oh a waste of money, or promotional products are not necessary. But this is incorrect and they are incorrect.
Promotional products are cost effective and have long lasting marketing power.
You can purchase a large number of promotional products for a small amount of money for maximum and long-lasting effectiveness.
This will help you retain customers and give greater customer loyalty.
Think of companies you have been dealing with for years, like your bank or mobile phone company, would it not be cool if they even gave you a branded pen? But some companies never do, they take your money and could not be bothered spending a few cents and give you a cool branded pen or lanyard or notebook.
So, by giving a promotional product, the company is shown to care about their customers.
Cost effective marketing
Long term marketing solution
Very effective across all industries
There are promotional items to suit all industries
Custom promotional items can be made for your company
Promotional products can often give a WOW factor
Everyone loves a promotional item
It keeps you top of customers' minds
Creates loyalty
Branding is important and promotional products helps to strengthen your brand
There are many reasons to use promotional products as a means of keeping you top of your customer's minds.
But the interesting thing is that when companies are looking to save money, marketing is one of the first things that they cut back on, including promotional products. This is actually the time to get marketing. Throughout this book, we will keep in mind a company that never stops promotional advertising and marketing. This company is Coke. If you drive through the most remote villages in Africa, as I have, you will see a Coke sign on the outside of a tiny village shop. A shop that cars cannot even get to, where there is no running water, no electricity, you can be sure that you will see a large Coke sign on the outside of the shop. A sign is a promotional advertising tool.
Coke ensures that they are being visible and staying on top of their customers' minds at all times. If you go into a department store, Coke is now so sure of their brand appeal, that they not only give their promotional merchandise away, they sell it! This is how confident they are of their brand and their promotional merchandise. I have bought cool Coke branded drinking glasses that all my guests have loved for their cool and funky shape. So, you could even sell your promotional items, you do not only need to be giving them away.
There is a book store that I go to which sells promotional pens with their logo on them. These pens are kept on their counter, so all their customers can buy a well-priced pen with the book store number and website on the pen. Clever marketing. I spoke to a friend who works at a financial services company and he says that when times are tough, they cut down on their marketing spend first. It might be a good idea to cut down on expensive lunches, dinner and entertaining and the like, but it makes sense to continue marketing with promotional items that are inexpensive to ensure that you stay top of your customers' minds.
Why Promotional Products?
Well. let me ask you this? Who of you have every flown on a long-distance flight? If you have, then you would have been given a little pack of goodies by the airline. Economy class passengers and business class passengers usually get given a little gift pack by the airline to make your flight more comfortable. Usually the pack consists of an eye mask and earplugs, toothbrush and toothpaste, socks and perhaps a lip balm. So not expensive items, but boy, does this little pack of promotional items not make a difference? You feel special being given the pack of goodies. I know that it makes me feel special and grateful. I recently flew abroad on a business class flight and the airline gave me a gift pack similar to the pack above. The gift pack included a high-end lip balm and also a hand cream as well as a hairbrush and awesome socks. Wow, I was really pleased. So, if you think of what you spend on an international airline ticket and what the small cost is of the gift pack, but what a difference it makes to the recipient, then you realize the value of promotional products.
Do All Promotional Products Need To Be Loudly Branded Or Branded At All?
Not many companies do tone on tone branding. So, for example, if you think of Jeep Clothing, the colour of the embroidered Jeep logo is the same colour as the shirt. This is subtle, but yet clever branding. Many financial services companies' brand in a subtle manner.
Who Are Promotional Products Given To?
I like to focus on giving promotional products to existing customers.
Promotional products are best used when given to existing customers to retain customers and to continue to build loyalty. Here you are focusing on those whose business you appreciate and who you want to retain as customers. These are people and companies who have entrusted you with their work and who continue to do so. You want to stay top of mind and keep in touch and continue to show them that you want their business.

There is nothing wrong with telling people that you value their business and you look forward to assisting them again. People like to know that you want their business. How often have you not done business with someone or a company because you feel that they don't want your business or don't care about your business. Then you simply go somewhere else.

New customers can get our fantastic service, buy from us and then receive promotional items. Don't use a promotional product as your main way to get new customers. That is where SEO, Social Media and flaming good service is important. Once you have your customers, then keep in touch with them consistently in a variety of ways. When our customers place an order with us, they always get a personal thank you card and some promotional items with their order. We love doing it and it is also a big thank you to our wonderful customers.
So, think back to when you were given your first promotional items.
For me, my first promotional items were t shirts given to all participants at a half marathon, this delighted me and I wore the t shirts when doing my running training for years after receiving them. Great branding for the race sponsors too! I also recall been given running socks at races and loved these too.
Brand Recognition
People need to recognize your brand and promotional products help build brand recognition. Company signage, banners, car branding, these are all part of the offering of many promotional product companies' offerings.

Where a promotional product company does not sell these items, just ask them who they recommend for car branding and hopefully they will point you in the right direction.
Promotional Product Industry Terminology
Artwork

Artwork of your logo in high resolution format – high resolution format examples are Adobe Illustrator, Freehand or Corel Draw converted to Curves. The quality of your print begins with good quality artwork.

These are types of artwork files in an electronic version that you can email to your promotional product company. When your designer does your logo for your company, ensure that it is given to you in a high-resolution format. This is important for printing purposes
If you do not have your logo in this format, then often the promotional product supplier will get the logo redrawn into a high-resolution format for you. They will charge you for this. Ask them please to send the new high-resolution logo to you to save so that you have it for future use. You need this for business cards, signage, printed products etc.
Pantone Colours

By knowing the pantone colour of your logo to give to printing companies and promotional product companies. Again, your designer of your logo will have this. if your logo is red, don't think there is only one red. So, our logo is fire engine red which is a certain pantone colour. If you are printing notebooks, flyers, mousepads, putting up outside signage, you need the same pantone colours everywhere. Also, on your website, twitter account, Pinterest, Facebook, Instagram, you want the same pantone colours. Imagine if your logo is a certain blue and then on every item that you print, the blue is a different shade. That is why many bigger companies have branding manuals stating how the logo can be printed on different items. So, for example if a company's logo is black, their branding manual will probably allow for the logo to be printed in white on a black product.
What are pantone colours?

A pantone colour is the exact number and name of a colour. So, for example the red of Coke's logo is the colour of the devil.

What is the pantone system? If you are new to branding and ordering promotional products, signage, or anything to do with the printing of your logo, you will be asked for the pantone colour of your logo. So, to answer the question of what a pantone colour is, the pantone colour system is the international standardized colour reproduction system that allows people all around the world to be able to use the same colours. You can easily match colours without having to be in direct contact with the colours or your designer.

You can guarantee that anyone who prints your artwork is using the same colour, wherever in the world your logo is being printed for you.
Every year there is a specific colour that is selected as the Pantone colour of the year. This colour is chosen by looking around the world for future colour influences and designs. For example, in 2014 the pantone colour of the year is Radiant Orchard 18-3224. This colour is then used as the theme for the year. Very often the pantone colour of the year is used a lot in fashion and interior design.

Many companies attend conferences all around the world and instead of lugging all their promotional products with them, they order from a promotional products supplier in that country.
We know that Brands sell. In our business our top sellers are the most famous brands. So, it is important to get your brand recognized in your town, area, country, state, country or internationally. Promotional products assist in growing your brand recognition. If promotional products did not work and were not important, successful companies like Coke would not be using be using them as part of their marketing strategies, but they are using promotional products, and in a huge way.
Types Of Branding
Laser Engraving
Debossing
Direct to product printing
Digital printing
Embroidery
Pad printing
Screen printing
Sublimation printing
Branding promotional products with your business logo creates an excellent impression of who your company is to consumers. When consumers receive free giveaway items and products that will add value to their everyday lives then they will notice your brand.
Branding promotional products can give your company a big boost in generating new clients and consumers because once people see your brand popping up more often at events, community events or even tradeshows, consumers will start to engage more.
The benefits of branding promotional products
Your business will gain customer recognition
Branding products with your company logo increases customer loyalty
Attracting investors - Potential investors could notice your products and could get in touch with you
Stand out than your competitors- Branding promotional gifts and using different designs will make you stand out than your competitors
Branding can lead to brand new customers and referrals, so if your business can deliver their promises with quality then your customers will think of you in the future if they ever need a service from you again.
Why is a high-resolution logo important for printing?
High resolution/vector format
"
Logo in high resolution format
" what does this mean?
When your artwork is given to you it is important to ensure that it is saved in a high-resolution format. High resolution or vector format refers to the quality of your image. The higher the resolution the clearer your logo will be. If your image isn't saved in this format you can get a designer to change it into vector format. This will be at an additional cost. If you don't have your logo in one of these file types, a graphic designer should be able to redraw your PDF or JPG into a high-resolution format at minimal cost. This is a good site to visit to get a huge variety of jobs done for you at minimal cost.
Practically what does it mean to have a logo in high resolution?
This means that when your artwork needs to be designed and saved in one of the following formats;
JPEG
EPS
TIFF
PDF
CorelDraw converted to curves
Freehand
Adobe illustrator 5.5
The most common format used is CorelDraw converted to curves.
Different Types Of Promotional Branding
Screen printing
The way ink is applied directly to a surface to be printed. Mainly used on curved
shapes like water bottles and mugs, metals and ceramics.

Pad printing
Pad Printing is printing process that transfers a 2D image into a 3D object. In the
promotional product industry, pad printing is used for printing on items like pens,
notebooks, USB flash drives, and other items with a flat surface.

Laser engraving
Engraving is the process of carving, cutting or etching onto a hard surface. You can
engrave onto wood or metal surfaces.

Dye sublimation
Dye sublimation is the process of applying an image onto a ceramic or metal
surface. It can also be used to print on polyester cloth. This is most often for full
colour branding.

Embroidery
Embroidery is branding with cotton. Embroidery is usually recommended as the first-
choice branding option for clothing.

Embossing
Embossing is the process of creating an impression on leather, cloth, paper or metal.
This can be a design, pattern or lettering.

Foiling
Foiling is a print finishing technique used by printers and designers. This is
embossing filled with foil. You can use it on business stationery, book covers,
greeting cards, packaging and leather products.

Heat press
A heat press machine is used to imprint a design or image onto a t-shirt. The
machine applies heat and pressure onto the surface for a specified period of time.

Tone on tone branding – this is where for example, on a red shirt, a company might
like their logo embroider with the same red as the shirt. So, a brand like Jeep
clothing does this. So, you can see the branding, but it is more subtle.

Branding does not always have to be big and bold and in your face. So, a company
like Coke often does huge big in your face branding while a telecommunications
company may do the same and a bank or financial services company might like
more understated and subtle branding with smaller logo's and often tone on tone
branding.
Pricing Costs Of The Different Types Of Branding
If you have had any promotional items printed before, you might not understand why you are asked how many colours in your logo or why you are told that a one colour print is cheaper than 2. Well, a one-color pad print or screen print is always cheaper than multiple colours. This is because there is a set-up cost for each colour print. So, if you are designing a new logo, keep the colours to a minimum, because more colours will usually attract a greater printing price.
For some printing processes, like digital printing, the number of colours in the logo does not make a difference to the cost.
In terms of embroidery, however, the cost of the branding depends on the thread count, so you can have as many colours as you like in the logo without the cost being affected. But the size of the logo makes all the difference. So, if you have a huge big logo embroidered on the back of a jacket, that will be more expensive than a little logo embroided on the jacket. If you are printing on the jacket, the size of the screen print will not make the biggest difference, but the number of colours in the logo will affect the price, the more colours, the more expensive.
Branded Inexpensive Giveaways
Promotional pens and pencils
Lanyards
Magnets
Rulers
Calculators
Sunscreen
Lip balm
keyrings
Branded Desk Items
Mousepads
Paper cube holders
Pens
Desk clock
USB hub
Mobile phone holder
Speakers
The Promotional Product Industry
The promotional products industry is a changing industry worldwide as are so many other industries.
The Benefits Of Giving Promotional Products
You achieve long term results at the price on paying for a single promotional item
There is sure to be a promotional item to suit your budget as opposed to expensive advertising campaigns that are often so expensive and you are not sure of your returns
You can really get stickability and long-term positive results from a single promotional item.
People love to get promotional products, especially a useful item that they are grateful for. I was once given a gym towel with a zip in it which was so useful at the gym to keep car keys, gym card, phone etc. This gym towel has the branding of a medical aid on it and is approximately 10 years old. So, my gym towel is like a moving billboard for the medial aid company. The quality of the towel is great and has lasted well. This is one of the towels that you hang over your exercise machine to wipe hands etc.
Ability to achieve long-term memorability at the cost of paying only for a single exposure.
Flexibility to fit the cost of the medium to whatever budget is available.
Ability to bond audience to advertiser so as to promote repeat business.
Audience friendly (i.e., not so likely to offend or be regarded as a nuisance
Ability to generate traffic (e.g., stores, trade shows, events)
Marketing Consistency
Make sure that whatever you do, you do consistently. So, if you are going to give a business gift once a year, make sure that you don't stop. I have heard people talk about how they always used to get a holiday or Christmas or December gift from a certain supplier and then suddenly one year got nothing, even after giving that supplier the same amount of business. Other marketing tools that can be used are social media and SEO

Keep In Touch With Your Clients

The most important thing you can do in keeping your clients is to stay in touch. And that does not only mean emails. A telephone call now and again is vitally important. Maybe you are the boss, but as your business grows you are not in touch with your clients as you used to be. Now your staff deals with your customers. How about picking up the phone to your biggest customers and saying thank you for the business. Or sending them a thank you card in the post? Or even better, sending them a card and a promotional item like a pen in the post? Or with all orders going out or to your biggest customers you could send a free branded pen or notebook or mouse pad or paper cube holder?

I cannot over emphasize this enough. Your clients do not want to be forgotten. So at least stay in touch on a monthly basis, by email, a letter in the post, a telephone call, but do something to reach out to your client, saying thank you for your business, we appreciate it, what can we do for you? Amazon stays in touch, think of the other big brands, they ALL stay in touch, surely this means that you should too? Do not forget your clients. It is said that customers don't leave you for bad service often, but because they do not feel valued enough.

Make Your Customers Feel Like You Care

So, think of your own spending habits, you might have left a company or supplier or shop, not because of bad service, but because you felt that company did not care about your patronage. I feel like that sometimes, be it a bank, mobile phone provider or other. Then you get that warm fuzzy feeling when you deal with companies who make you feel that they care.

By giving a promotional product or business gift, you have made an effort to say thank you and I really do want your business. Combine giving promotional products with your other ways of marketing. Remember, your aim is to regularly stay in touch with clients, via email, phone, post, promotional items, and of course a wonderful, updated website with excellent SEO and social media. If you are in the health industry, you might give gym towels or pedometers to clients and staff. This shows that you care.

Give Promotional Items Or Business Gifts To The Right People

We are very careful in our industry to give promotional items to a whole team and not just to one person.
So, if we have dealt with one person in a company's marketing team, we ask how many people in the office and then send paper cubes, mouse pads, rulers, pens, or whatever promotional item they are receiving, to the entire team. Otherwise you don't want to single one person out.

Obviously if the team is 300 strong, one can give to the team working on the project only. One should never be seen to be buying anyone's favour. This is so important and not ethical. You can't give any promotional item, no matter how big or small to someone in procurement department without the company management agreeing to this. This is seen as "buying" favours and should be carefully handled.
Don't just hand out promotional products at a traffic light and hope for the best. This is expensive and can be a total waste of money.
Rather give promotional products to your existing clients first as a thank you for their business and to retain customers and improve customer loyalty.

Why Should You Hand Out Promotional Items?

Well, you just have to look at any of the world's top companies and see if they use promotional items in their businesses.
Again, I think of Coke, one of the world's great companies, they never stop giving out promotional items and actually now they rather choose to SELL them. Imagine, they think their brand is so worth it, that now they sell their promotional items. And they are right. They make really cool promotional items and then sell them in retail stores. Mercedes Benz, BMW and the list goes on, these companies have shops where you can buy promotional items. Think Ferrari, who would not want a Ferrari t shirt? The brand stands for opulence, "you have made it" etc.

To stay top of your customers' minds, you want them to think of you first when giving business. As a token of appreciation for the business. Although this is a book on promotional products marketing, nothing can be looked at in isolation.

Using promotional products on its own will not get you the results you need. Using only social media will also not, neither will SEO. Each type of marketing plays its role. I have added in other types of marketing that should be done.
Customers love to receive business gifts, end of year gifts or Christmas gifts.

You can be sure that customers love to receive a promotional gift or end of year business gift or Christmas gift. They might not show how much they enjoy it, but you can be sure if one year, they were left off the Christmas list, they would be unhappy. Customers look forward to receiving an end of year gift, also sometimes called holiday gifts. Different cultures, countries and industries give holiday gifts at different times.

Spend most of your time and resources on those customers who give you the most profit or who can give you the most work. Some customers might continuously give you work, but it is not very profitable. So, for those who give are your top profit generating clients, give them the more expensive promotional items? But do not forget your biggest clients. Look after your existing clients first. Then try to get new customers. Chances are that you might not even need a huge number of new customers if you just kept in touch with existing customers.
Send them a pen and card in the mail. This could be a big operation, but when last did you get a nice card and gift in the post? Or even send them a postcard. We send our clients promotional post cards. We also give our clients a written thank you card with every order. Yes, it does work out to a lot of work, but we are remembered and clients appreciate it. Above all, we appreciate the work that we get and the relationships we have with our clients.
How To Choose Promotional Products
Now days many people just purchase promotional products online, but most
business owners and marketing staff are too busy to brainstorm ideas for good

promotional items for the particular purpose. So, this is where it is good to know of a
good promotional products company that will actually do the work for you. So, you
tell them
The Promotional Product Industry
The promotional product industry is a billion-dollar industry. There are many associations worldwide representing the industries in the various countries. Some are non-profit while others are for profit associations. My view is that an association representing an industry should be a not for profit association.
An industry association's members should really be elected by those in the industry and by industry peers.
The various industry associations worldwide include;
USA –
www.asicentral.com
Brand Innovation is also a member of the ASI.
Africa – most African countries have no promotional product associations. If you need promotional products delivered in Africa by a reputable and reliable company, contact Brand Innovation in South Africa. They ship promotional products throughout Africa.
www.brandinnovation.co.za
.
Some of the wholesalers in South Africa have started an association, which has been met with some controversy. This association is still very new and many promotional product companies have not yet joined it.
The promotional products industry is a very easy industry to join in most countries. It is a low barrier entry to business, so you don't have to have any qualification at all to start a promotional products business. This leaves the industry open to many flies by nights and fortunately for the companies buying promotional items, very good prices as there is so much competition to get the business.
So again, because of this reason, buying promotional products can be a very cost-effective form of marketing.
Benefits of promotional products
Unlike other forms of media where the advertiser's message is seen as an interruption in what the consumer is trying to do, PROMOTIONAL PRODUCTS enjoy incomparable acceptance, goodwill and recall rates.
Even the smallest marketing budgets can achieve excellent results using promotional products in a clever way.
Good use of Promotional products gives huge Brand Exposure. People often feel as though many other forms of advertising are interrupting them, be it on television or the internet or the radio. I really do feel interrupted if I am on the internet and keep seeing ads pop up. I find these very distracting and have now elected to switch these off. By the way, did you know that you could? Just go to google set up and see how to do this.
Promotional items, on the other hand, are appreciated and kept for a long time, often for many years. People usually remember which company gave them the promotional item and who from that company. Also, the chances are that the company's name or brand is printed on the promotional item prevents the person from forgetting.
Examples Of When To Use Promotional Products
When a customer places an order with you or gives you business, it is a good idea to give some promotional items with the order to say thank you. This could be a paper cube holder for their desks or some promotional pens for the customer's office.
Your company might want to recruit university graduates at a university open day. Many companies give giveaways at a day like this. These could be high technology gadgets (at a good price) branded with your company logo. For example, earphones, usb flash drives in a custom shape and similar products.
End of year gifts. You have been given work by your existing client, now is the time to give them a thank your promotional item or corporate gift. Here ideas can range from picnic sets, cooler bags, beach umbrellas, Moleskine notebooks, a beautiful Parker, Sheaffer, Cross or Waterman pen. I always like a Cross as the brand has a lifetime guarantee. Remember to give a handwritten card if possible, with your promotional item or end of year gift. If you are giving to a large number of people, you could give the card to the VIP's only.
Trade shows – it is always a great idea to give something memorable at a trade show to existing customers and prospective customers. Here well priced items like cool pens, magnets, lanyards and lip balms are a great idea.
Conferences – at conferences it is very useful to give a branded notepad, pen or conference bag as a useful memento. Often delegates have travelled far to get to the conference and branded promotional items are always used and appreciated.
Hotel room drops for a conference or team building exercise- again at a conference a hotel room drop is often done. So, this might entail a welcome goodie bag or welcome pack. This welcome pack could contain some information on the conference, a branded carrier bag, a usb flash drive with conference information pre-loaded onto it, a notebook, an energy bar etc.
Wellness days – many companies have wellness days. To create some buzz and excitement one could give away gym towels, exercise mats, water bottles etc.
So, if you are using promotional products, then make sure that you do it with a message. Our message usually remains the same, thank you for your business, we appreciate it very much. We value you as a client.
Promotional Products As Opposed To Digital Marketing

Promotional products are much more cost effective compared to traditional advertising. Digital Marketing is vitally important and the importance of digital marketing will continue to grow and grow.
However, although the growth of digital marketing is enormous, the need for promotional products remains. Promotional products are an excellent means of retaining customers or rewarding customer loyalty.
For example, a coffee drinking website can send a regular customer a free mug with their next coffee purchase.
You often see a digital promotion working with a promotional product to achieve their marketing goals. So, for example if you go onto a company's Facebook site and like it, you can possibly win a free branded gift.

Successful Companies Who Use Promotional Products

McDonald's uses promotional products continuously to get kids to enjoy the MacDonald's experience. If hugely successful companies like Coke and MacDonald's are using promotional products as an important form of advertising, then should you not too?


The Benefits Of Promotional Products

Promotional products have a longer life span than all other types of advertising.

Promotional shopping bags are an excellent example of this, a promotional shopping bag can be branded with your logo and given out to your potential clients. Many super markets and stores are offering points for using reusable bags, which means that your customers will be inclined to use them on shopping trips, displaying your company branding to fellow shoppers.
The brand exposure that will be gained is huge, with the shopping bags creating free advertising for your company. So, your company logo is displayed every time people go shopping with your shopping bags. That's a mobile, daily or weekly walking advertisement of your company branding.

In some countries, customers have to pay for plastic shopping bags in an attempt to get people to re-use bags. So, you can see the benefits to you and your customers of using shopping bags as promotional items. As a matter of fact, I am going to get our company arranging some more for us as a matter of urgency.

Our business gives promotional products with all orders going out and we used to always have a supply of shoppers to give customers. At present I know we are giving paper cube holders made from recycled plastic with our branding and contact details on all sides, a pen holder with our branding and filled with beautiful, bright coloured pencils, also branded with our contact details. The gifts look really cool and are useful and will sit on our customers' desks, keeping us top of mind.

So, we try and change the gifts we give on a regular basis, so that our clients always have some cool gift to receive with their orders. And as a am writing this, I realize that we have some super cool, long handled eco shoppers that will be perfect to give to customers when they order their gifts.

How do you choose a promotional product that is perfect for your company's needs?

This guide will give you a brief idea of what potential items you can buy for your staff members and your clients. This guide will also inform you about the eco-friendly products Brand Innovation provides and they contribute in making a different for the environment. You will also become familiar with our corporate gift ideas and the wide range we offer.
Which industries would benefit from printed promotional pens?
Well, there are billions of industries that would benefit from printed promotional pens. Some of the many industries that would use promotional pens are corporate organisations, school teachers and students, universities, restaurants like waitresses, corporate consultants and so much more.

You could be working as a waitress where you will need to write down your customer's orders or you can be working in the finance department where you are required to write down lots of number and do calculations.

Are pens printed with a logo a cost-effective marketing option? If so, why?
Yes, branded pens are a cost-effective marketing tool as they are cheap for startups and corporate organisations to exposure their brand faster. Branded pens with a company logo and name can be easy to distribute them at exhibitions or trade shows to get instant exposure.
Well, if you ask me many people use their laptops or PC's to write down notes. However, branded pens are still used by many organisations so it will have a fantastic usability by many organisations
At some stage in your job at the office or even in your personal life you may need a notebook. Branded notebooks can be used as a corporate gift for your employees to use in meetings or even when seeing clients.
You can even reward your clients by giving them a branded notebook with a pen so that they use exposure your brand even further by using the dairy and letting the public see it. Having a social media competition on winning corporate dairies is another way to attract more awareness about your brand.
Types of promotional products for a desk
A Satin A5 Dairy for business meetings
A5 Executive Diary for college for work
Tent Calendar to organize your work meetings, deadlines or corporate events
A Clock organizer with a pen cup- Great for holding all your pens and pencils and keeping track of the time for your next meeting.
A wireless mouse to use when you are attending more than one meeting at a time.
The benefits of promotional products on a client's desk
Having promotional products on your client's desk is an excellent way of keeping your relationship strong and remembered. Having branded products on your client's desk will for sure keep your brand top of mind.
Which desk promotional products would be best for marketing?
There are many items that can be used for an office desk. Promotional products that could be cost-effective for companies to brand and use at their desk include;
Rulers
Pencil cases
Water bottle
Paper cube holder
Mousepad
A notebook and a pen
Calendar
Pencils
Earphones
Stick notes
Calculators
The products that I have just mentioned can be branded with your company logo to increase brand awareness. They can be used as branded giveaways for corporate industries, schools and universities to use and showcase on your desk.
So, the question remains, what will give the company more bang for their buck? well, how about branded coffee mugs?
A branded coffee mug is a great marketing tool. Why?

Branded coffee mugs are cost-effective, and they can be used in the office at your desk, in the comfort of your home or even when you're on the go travelling to different destinations. Branded coffee mugs will allow consumers to see your brand constantly when they make a cup of coffee or tea.

You can even jazz up your branded coffee mug with a motivational message or even have your employee's name on the cup. Employees will feel appreciated.
Pencil cases can be suitable for work, school students or even corporate organisations.
Having a branded pencil case can be useful to keep all your stationary equipment into one bag. You can store your pencils, pens, a ruler or highlighters for school or work meetings.
Branded pencil cases can be a great corporate gift for your employee to keep themselves organized at their desk instead of having their stationary lay around.
Branded pencil cases are cost-effective items and can be used a part of a corporate gift package for new employees. You can even offer your clients a branded pencil case with their name on it or a personalized message to make them feel appreciated.
Having your company logo on the front section of a pencil box will generate great exposure as your clients will constantly be reminded of who your brand is. These pencil boxes are excellent for No-Profit organisations and social media giveaways online. You can increase your brand awareness while gaining more insight and traffic to your social media platforms.
Pencil cases are convenient for traveling to different locations and meetings. They come in different sizes and are conveniently sized to fit in your bag, on your desk or anywhere you put it. Branded pens are a great product for marketing because everyday kids at school write notes, employees write down notes in meetings and presentations, even waitresses need to write down food orders from customers. Pens is x are an essential item to have in the office and at home. Funky diaries are great to use for diarizing important work and college deadlines.
Branded Diaries
Your branded logo on the front page of your client's dairy is a good way for your client to always remember you. Dairies are usually used on a daily basis, whether it's at school writing down notes or even when you attending a meeting and you need to diarize important facts.
Branded dairies are a great option for your logo to be always be remembered.
You will be creating brand awareness in office environments
You will be creating a loyal customer base
Building strong relationships with your clients
Increased sales from clients
Branded Calendar Desk Pad
Having a big calendar desk pad on your desk is super helpful in making sure that you know what important dates are coming, what client meetings are taking place, which projects needs to be done and what upcoming deadlines are going to take place.
Promotional Sticky Notes
Cool sticky notes are a fun way to remember important work meetings or deadlines that are taking place within your day. They are bright, colourful and sticks around your desk to constantly remind you of your upcoming projects.
Branded calculators
Calculators are great for people working in stock taking, or working at the bank with money. Financial duties or people working in marketing that count stock would need a calculator on their desk.
Why are mousepads a great promotional item?
Mousepads are great for the office because they create a soft surface for your mouse to move around freely.
You can brand your company name on a mouse pad with a motivational message for your clients to see every day when they switch on their computer. This gives your desk space some uniqueness and colour. By branding your company name you can even have a small calendar on your mousepad or add some vibrant colours to make it stand out.
Different types of mousepads
A motion mouse pad
Glide Mousepad- Brand your logo
Black Carrington Mousepad
Black Omega Wireless Optical Mousepad
Branded grey redox mousepad
Branding options for mousepads
Debossing
Screen print
Foiling
Looking for a cost-effective shopping bag to promote your brand. Brand Innovation has a large number for you choose
Shopping bags are a great platform to promote your brand. People around the world use bags for to use you in need of groceries for the home or simply for clothing. Branded shopping bags are a cool a way of getting your brand noticed by people.
How? Well, you could be walking in pick 'n pay with your big branded bag and people will be continuously passing by you, they could notice your bag with the branded logo. Some consumers may even compliment your bag. Have attractive colours on your bag so that consumers will instantly be attracted to it.
Types of Promotional Shopping Bags
Jute Tote
Long-handled shopping bag
Mini Cotton Shopper
Polyester shopping bag
Bamboo shopping bags
Polyester shopping bags
Drawstring bags
Fibre bags (Eco-friendly)
Toiletry bags
Paper gift bags
Why are shopping bags a great promotional item?
Promotional shopping bags is a great way to increase brand awareness and brand recognition.
Having a great design for your bag that can stand out than your competitors can attract the public's attention to choosing your brand.
Promotional shopping bags is useful for everyday live. They can be used when you're doing grocery shopping at the mall or even when you heading out with your girlfriends to shop for a new outfit.
Brand Awareness- Promotional shopping bags are great for creating brand awareness amongst the shopping floors. When customers use these shopping bags to carry their groceries, they will be exposing your brand to many people that walk pass you in the mall. So, having your marketing logo printed on the shopping bag will help you in bringing across your marketing message.
Why a shopping bag that folds up into a pouch is a fantastic way to market your brand?
Bags that can fold into a pouch are a unique way to market your brand.
Foldable bags are cost-effective for companies and organisations.
Impress your consumers with foldable pouches; this can be convenient for your consumers to store them at home in the cupboard or even in their car without taking up much space. Let's say you're shopping at the mall for groceries, you can have more than 1 foldable shopping bag with you to avoid paying for new shopping bags at the teller.
Consumers can also find this convenient to carry around.
It's easy to wash and they are long-lasting so they can be used plenty of shopping trips. Phone card holders are great for consumers to keep all their essential cards safe in a tight fitted pocket.

Why are branded promotional drawstring bags a good marketing option for mass giveaways?
Yes, Drawstring bags are lightweight and easy to carry around. They are comfort and portable. The drawstring top closure allows you to easily throw in your shoes, clothing and any other accessories. Drawstring bags are a great marketing option for mass giveaways.

Why? Because they are cost-effective, they also a great big branding area. Industries that would benefit using drawstring bags would be schools as they can be used for field trips.

Sports clubs like running or soccer clubs would benefit from using these bags because they are lightweight and you can put your water bottle or athlete outfits in the bag. Promotional drawstring bags can be used in a variety of industries like universities, restaurant staff, IT companies for their tech gadgets.

They can even for used in corporate organisations for team building activities.
Brand Innovation offers a wide range of drawstring bags. They are available in different colours. They have a deep stockholding, so you can place a large order and we should have stock available for you. Some drawstring bags come with an extra zippered pocket in the front.

You can easily carry this on your back or you can carry the bag on your one shoulder. The awesome part about this is that you get to brand your company logo on these bags to create more awareness.
Promotional Technology Items
Why are technology promotional items great for marketing?
In today's era, many people would agree that technology and the world of digital technology is impacting the economy.
Technology promotional gifts is a great marketing strategy to have. This will exposure your brand to a new audience and it's always great to have a tech gift to help you with work, school and everyday life.
Tech gifts like USB's, flash drives, headphones, a phone charger are just some of the items that can be of great use and lasts a long time. Some employees may prefer receiving a USB than a pen or you can be a person that likes to receive a pen and a notebook.
Its all depends on the type of employee you are. Do you enjoy listing to music while you work? You could be the type of employee that would appreciate receiving a pair of headphone or earphones.
Brand Innovation is proud to supply you with a fantastic range of gadgets. Some of the products we supply includes power banks, USB's, headphones, earphones, Bluetooth speakers, car charger and phone accessories and so much more.
These Tech gadgets can be used in a variety of industries such as IT companies, tech industries and business corporations.
Types of Tech gadgets include the following;
Wireless Mouse
Padded head-phones
Silicone battery with USB cable
Smart watches
Wireless Charger
Phone Holder
Bluetooth speaker
Micro Fibre pouch
Power Banks
Bluetooth Earbuds
Amplified Speakers
Transfer cables
Phone Lens
Webcam Covers
Visionary Glasses
Silicone phone pouch supplier
What is a silicone phone pouch?
A silicone phone pouch is a piece of silicone that covers the whole shape of your phone but allows you your screen to be touched and seen. Phone pouches protects your phone from getting damaged like falling on the ground being dropped in water.
A silicone card holder is another name for the phone pouch, where you stick on a mini card pouch at the back of your phone to insert all your credit cards in. This mini card holder is fantastic for storing all your credit or business cards for safety and protection. Brand Innovation offers a wide range of silicone card holders. We currently have 12 cool colours available for you to choose from.
Silicone card holder colours include;
Black
Blue
Cyan
Lime
Navy
Orange
Purple
Pink
Red
White
Turquoise
Yellow
Why are silicone phone pouches good marketing tools?
Billions of people around the globe use a cellphone on a daily basis. Phone pouches can be an effective marketing tool to expose your brand as people will constantly see your company's logo when they use their phones.
A silicone phone pouch that has attractive colours, a personalized message with your business logo can attract consumers to your brand. These silicone phone pouches can act as a constant reminder of who your brand is to consumers. Phone pouches can be used as a corporate giveaway to clients and employees to ensure the protection of their phones.
Silicone phone pouches are used to protects your credit cards, bank cards and any other important cards.
Are Webcam covers a good promo idea?
You never know who could be trying to hack into your computer, that's why it is important to always protect yourself.
Webcam covers or blockers can be a cool promo idea for security firms, schools, top investment organisations that are serious about protecting the safety and security of their firms. Effective webcam covers can even be included in a corporate gift package to your clients and employees.

This will show your clients that you care about the safety and security of our clients. Webcam covers can give your employees and clients great protection and privacy while working on their laptop or computer. Webcam covers brings more brand awareness because when customers use their laptops or computers, they will have your company name or logo always above their screen.
So, whether your employees are taking their laptops to meetings or just using their computers at their desk, the webcam cover will act as a constant reminder of your brand being promoted.

Brand Innovation supplies a great range of webcam covers that come in colour funky designs for you to choose from. Some of these webcam covers comes with a screen cleaner. They are available in different colours.
Branded Aprons
Why branded aprons display your brand well?
Branded aprons can be worn by a waitress, a mother just cooking at home or even a chef.
Aprons with a branded message or a logo can help your consumers in identifying staff members easily and quickly.
Aprons are usually used to make your staff members look neat and professional when greeting consumers or even just cooking in the kitchen. Branded aprons can exposure your brand well as it gives a professional look for your employees and it gives consumers a chance to trust in the brand.
Aprons helps in displaying your brand well by showing your consumers that you take priority in working in a clean environment as you will be protected from dirt or dangerous materials. Branded aprons that includes pockets where waitress staff, cleaners or even restaurant staff can access a pen or a dishcloth to do other duties is a great feature to add onto an apron.
Aprons that have a personal or quirky message such as 'Best Cook' or 'Kiss the Cook' with a branded logo can attract your consumer in noticing you and the apron.
Having a personalized message with an attractive logo could be a fun and engaging way for consumers to interact with you.
Image your restaurant has been chosen to participate in a cooking show with a famous South African cook, Jenny Morris. You will need to look the part and represent your brand well with a professional apron. This could even be a great way to increase awareness to a live audience or to media outlets.
Types of industries where aprons can be used;
Restaurants
Fast Food Outlets
Cooking Schools
Hospitality
Bar tenders
Parents
Chefs
Assistant chefs
Why car air fresheners are great for brand awareness

Car air freshers is a cool way of keeping your car smelling fresh and renewed. These air-freshers is a cost-effective promotional gift for marketing campaigns.

They can be used in a goodie bag for your clients to use or you could hand out free giveaways at a trade show to new consumers.
Branded car air freshers that are standing in your consumers car and that's giving off a great smell will constantly remind your client of your brand. Custom car air freshers are great to hand out at fundraisers or even to churches, schools, sports teams.
Promotional car freshers are great giveaways for car companies and dealerships, car washes and automotive industries. Having a pleasant smell in your car can influence your consumers to possibly buy more air freshers from your brand.

You can even target car companies and dealerships that are offering specials on their vehicles with a car air fresher for every new car that is sold. You can achieve great brand awareness from new consumers. This way, clients will not only be impressed by their new car but also the pleasing smell it has.
COOLER BAGS
Why are Promotional Cooler Boxes the perfect item for Heritage Day?
The braai culture in South Africa is rich. One of the best moments South Africans enjoy sharing is the braai culture. If the Springboks won a rugby world cup, then millions of South Africans celebrate this by having a delicious braai.
Heritage Day is where billions of people celebrate the cultural wealth of their nation. Many South Africans celebrate the wonderful cultures, beliefs and traditions that shapes South Africa. Promotional Cooler boxes are great for braai days like Heritage Day.
Many people will be out in the forest braaiing with friends and family celebrating their nation. Brand Innovation offers a variety of promotional cooler boxes from small to large.
These cooler boxes are great for braai days, they can keep your drinks and meat cold and refreshing.
Promotional cooler boxes for schools
School students that has a packed lunch with a cooldrink or a water bottle can benefit from small sized cooler boxes. Drawstring cooler bags can also be a great item to keep your drinks cool. If you have a sports game at the end of the day, promotional cooler bags can be a great place to store your fruit, water and cooldrinks to drink after your match. Brand Innovation offers mini sized cooler bags to keep drinks cold for lunch time.
Why branded cooler bags are great promotional products
Branded cooler bags are an effective way to get your business exposure. Consumers that enjoy the outdoor lifestyle like braai days, road tripping or simply going to the beach on a hot summer's day will need to keep their drinks fresh and ice cold.
When you have a braai day surrounded by friends, family and the public, then people around you will constantly see your cooler box and the brand on it. Cooler boxes are very convenient as they come in different sizes, they can be small or large and easily transportable.
What is nice about having a cooler box is that you are able to fit in a number of drinks, wine or ciders into one large cooler box. Smaller cooler boxes can even be used for school to keep your drinks cool for lunch period; and they can even fit into your school bag. People will constantly be opening and closing the cooler bag to grab a drink or a sider while relaxing or braaing their meat.
The beneficial part is that having your brand on the cooler box will create brand awareness. The cooler box could be standing next to you for hours but people walking by will instantly check out your cooler box or they could even help themselves to a drink or two.
So, they will constantly being see your brand, the logo and the colours or the attraction it brings to the event you attending.
Types of cooler bags
Tube cooler bags
Wine cooler bag
6 can mini cooler bag
Insulated cooler bag with two carry straps
Sheshwe cooler bag
12 can cooler with outside pockets
4-person picnic cooler bag
Barrel cooler
Drawstring cooler bag
Types of eco-friendly promotional items
Brand Innovation cares about the environment and strives to always contribute towards our environment in a friendly manner by going green.
We offer eco-friendly products from stationary sets for corporate and school to shopping bags, USB's and so much more.
Branded eco-friendly promotional items include;
Wooden USB flash drives
Bamboo notebook with a pen
Bamboo Lanyards
Newspaper pencils
Spekboom plants
Recycled carton Stick Pen
Eco bags
Jute bags
Why use Eco-Friendly Products?
Corporate organisations can use eco-friendly items to lead a green lifestyle that is more beneficial. By using eco-friendly products and stationery, companies and individuals can improve the environment.
Saving Eco-Friendly materials
by going green, you can save material because eco-friendly products ensure efficiency by using non-harmful materials without having to sacrifice quality. Eco-friendly products focus on contributing to the environment by using long-lasting and recyclable materials.
The benefits of using Eco-Friendly Products
Eco-Friendly products contribute towards saving the environment by avoid using harmful materials and preventing pollution.
Saving water
Less pollution
Biodiversity and habitats will be protected
Recyclable products last longer which can save money
The benefits of using Eco-Friendly products for corporate companies
Corporate organisations that invest in going green and contributing to the environment can increase their brand's image.
When your clients learn and see that your company is using sustainable resources, they will have a positive impression that not only do you care about the planet, but that you are a responsible company. Clients will start to trust in your brand more.
The benefits of a corporate environmentally friendly business
Running an eco-friendly business can reduce your impact on the environment while preserving natural resources.
Corporate businesses can help the environment by
Using products that can reduce your reliability on natural resources such as solar hot water systems or rainwater tanks during winter.
Recycling paper or newspapers can reduce costs in your business.
Reuse scrap paper when you are taking messages
You can recycle by shredding excess paper
By making these small changes in your working environment, you can contribute towards the environment and impress your clients by making an effort to show that you care.
You can also cut down your company costs by handing out eco-friendly stationary that will last a long time. Such stationary items could be Bamboo notebooks or pens. This way you save on company costs. Eco-friendly materials that are frequently used are biodegradable material, recycled juco material, bamboo and recycled newspaper depending on what the product is.
Why choose Eco-Friendly Shopping Bags?
Eco-Friendly shopping bags can be used for a long time. They are made from great organic material and very bio-degradable.
By selecting eco-friendly shopping bags can impact the environment in a positive light and reduce the amount trees being taken down. These shopping bags are washable, water resistant, sturdy and very convenient for multiple shopping trips to the mall or the stores.
There is no need to use plastic bags that can break easily because eco-friendly bags are durable. Think about the production process of plastic bags, they require a lot of oil and natural gas which is not recyclable. Choosing eco-friendly bags that can save on non-renewable resources and protects the environment gives a positive contribution to the environment.
Should plastic bags be outlawed?
Billions of people use plastic bags for shopping, food or clothing. Shopping mall and tellers have plastic bags and usually use them on a regular basis. However, not many people consider the dangers of plastic bags to the environment.
Plastic bags are tangled in trees and they are floating around in the ocean which does cause a harmful effect on sea creatures. These plastic bags are made from non-renewable resources and contributes to climate change. Consumers don't really realize that each time they leave the shopping mall with a plastic bag, they are participating in wasting energy and depleting non-renewable resources.
Plastic bags are harmful to marine and human life because they contain substances like inorganic dyes that are added to the change of colour of a plastic bag. These dyes are contaminated with heavy metal like lead or cadmium which can affect the human body and sea animals is a negative manner. Sea animals that swim in the ocean are known to always come across plastic bags or bottles that float across the ocean.
Animals could mistake plastic for food or plastic could just get caught around them while they're swimming freely in the ocean. By eating or swallowing plastic, animals can get health issues.
The benefits of using Eco-friendly Shopping Bags
They are reusable
Stronger and more durable than plastic bags
They doing rip off easily
Comes with a big branding area for logos
They are easily washable
Stronger than plastic bags
Lightweight and easy to carry
Types of eco-friendly shopping bags
Paper Bags
Fibre Bags
Drawstring bags
Jute bags
What is green packaging?
Green packaging uses materials and certain manufacturing techniques to reduce energy use and impacts that cause harmful impacts of packaging to the environment.
The green manufacturing procedures takes different steps at a time to minimize their power output and to reduce the amount of greenhouse emissions that are produced.
The benefits of green packaging for Corporate Industries
Reduces the consumption of carbon footprint (resources)
Can be easily disposal or recycled
Biodegradable
Its flexible and versatile which can be re-used
Boosts your brand image
Going green as a company shows consumers you care
You can gain trustworthy relationships with clients
The packaging can be reused and reduced
Less money on plastic cleanups
Types of Eco-Friendly Dairies & Journals
Going Green and save the plant by buying eco-friendly dairies, sticky notes and newspaper pencils. Eco-friendly notebooks are great for office settings or even as a corporate gift to be uniquely different.
Our eco-friendly collection consists of dairies where most of our paper are recycled including recycled newspaper for the pencils.
A5 hardcover notebook
Memo Set
Journals
A6 Notepad
Memo Pad
Sticky Pads
Types of Eco-Friendly Pens
Bamboo Ball Pen
Recycled newspaper pen
Recycled plastic pen
cork pen
biodegradable pen
Why should you choose Eco-Friendly Pens?
Eco pens are affordable promotional gifts; they are earth friendly, biodegradable and made from great renewable material.
They contribute towards the environment in a positive manner and can even be personalized with your company logo and name. By using environmental pens and products, we can reduce pollution and the contamination of the natural resources such as air, soil, water and trees.
By going green and using recycled materials or choosing materials from natural materials for eco-friendly stationary contains a very few chemicals.
Why bamboo is Eco-friendly?
Bamboo is a great sustainable resource. Bamboo material is known to be the fastest growing woody grass that can grow up to nearly a meter a day. This material has the potential to even grow to full size within a single growing season. By making a small difference to the community, corporates can influence their clients and other organizations to buy bamboo pens.
Bamboo can have a large environmental impact positively as bamboo can save energy, water and fossil fuels.
Strong and durable
Lightweight
Grows faster than wood
The Cork Collection is a beautiful range of corporate gifts that are eco-friendly made. The products can be used as office stationery, shopping in the mall or exercises.
What is Cork?
Cork is known as a tough but lightweight material that is made by a tree known as cork oak. Cork products has very little to no impact on the environment negatively because cork is harvested from the bark of cork oak trees. Due to cork being harvested from the bark of oak trees, this makes cork products recyclable and environmentally friendly.
Promotional cork products include;
Notebook with cork print
A4 Cork folder with pad and pen
A5 Cork cover notebook
flume cork ball pen
Kooshty kork water bottle
Kooshty kork yoga block
Kooshty kork yoga mat
Cork keyring
Cork gift set
Cork mug
Cork tumbler
Kooshty kork cup
Cork shopping bag
Looking for something different and just out of the ordinary to promote your brand? Give your employees the gift of a spekboom with a card. Spekboom is an indigenous eco-friendly plant that purifies the air around you.
South Africa faced a challenging water crisis issue, therefore, the spekboom contributes towards the water crisis in South Africa as it can survive on a minimal amount of water.
The benefits of Spekboom
Fire resistant
Thrives and grows in poor quality soils, fires and floods
Creates as lovely look for your desk
Eco-friendly and sustainable to the environment
Low maintenance plant as it is a water wise plant
Can adjust to all weather conditions
Can survive in drought and frost

Are branded first aid kits great for cars to showcase their brand, why?

Car accidents or any type of accident can take place anywhere and everywhere. Branded first aid kits would be the ideal kit to ensure that you have the basic tools to help you survive a heavy accident. Car companies that includes a first aid kit in every new car will show consumers that they care about the safety precautions of their clients.

Clients and consumers should feel impressed and develop a strong sense of trust into a brand that cares. Branded first aid kits can also be used to supply to offices in case of any emergencies or unexpected accidents that occur. Brand Innovation offers basic vehicle first aid kits.

Water bottles are great marketing tools to expose your brand and increase awareness. Having your logo with a motivational message can help in consumers and clients being attracted to your brand. Imagine distribute water bottles to local soccer clubs or school rugby clubs to exposure your brand quicker.
Metal Water Bottles
Metal water bottles are designed to last a life time as they are unbreakable, durable and can ensure the toughest of conditions. Promotional metal bottles are great to use for sporting activities, hiking, beach days summer festivals and even as a corporate gift. They are safe, easy to clean off and they are a much better option to choose than using plastic water bottles.
Brand Innovation has a cool selection of aluminium water bottles that come with stunning colour exterior and a screw on cap. Brand Innovation has different colours available for you to choose from. This includes a great branding area to expose your company logo.
The benefits of having a promotional metal bottle
Stainless steel keeps your water refreshed and cold
No harmful chemicals added
Strong to last a long time
BPA Free- there is no plastic used in the manufacturing process of this bottle
Stylish- they come in different colours and designs
Steel is sustainable and recyclable
So, whether you're a school student, a professional athlete or a traveller, you can choose different colours and designs for your water bottle.
Aluminium Water Bottles
Why are aluminum water bottles great to brand your logo on?
Aluminium water bottles are excellent bottles to use for running, hiking or even the gym. Branding your company logo on an aluminum bottle will really blend in with the vibrant colours of the bottle.
Water bottles are excellent to create brand awareness. If you think of the Argus or Two `Oceans that can attract sporting companies and schools to purchase this bottle for their school lunches or even soccer and cricket games. Brand Innovation has many different types of aluminum water bottles to choose from. A company should consider what their needs are. Are the bottles for a game farm, a sports promotion or high-end gifts?
For example, Brand Innovation offers different type of aluminum bottles; the bottles are available different colours for you to choose from. Each bottle comes with a carabiner belt clip so that you can clip this to your bag. These aluminum bottles will keep your drinks refreshed and cool. They can be used for drinking water and cooldrink.
Different types of Aluminium water bottles
650ml Aluminium water bottle with a closed black cap
400ml Aluminium water bottle with a carabiner clip that can lock on your bag
750ml Aluminium water bottle has a carry handle with a sloid straw which allows you to hold the bottle and drink comfortably.
680ml Aluminium water bottle

Awards and medal are great ways to award your employees on their hard work and efforts into projects or meeting deadlines. A medal or an award can even be given to your clients to say thank you for their constant support and dedication towards your company.
You could award certain employees on their loyalty that have been with the company for many years. By awarding your employees with a golden medal or a tower award will make your staff feel appreciated and valued within the company.

Why should you personalize an award or medal for your client or staff members?
Personalising an award or a medal with your client's name or your staff members name are great ways to make your client and staff feel special and important. Having your client's name and surname personalised on a trophy, medal or an award will make your clients and staff members feel proud and honoured to receive a gift like that.
Why are promotional shopping bags important?
When people go out to shop for groceries or clothing, then shopping bags are very essential to use. Branding a shopping bag with your company log is a great way to advertise your brand.
Colourful, attractive and meaningful lines on a branded bag will stand out more because people in the shopping mall will easily notice your brand and not only will one person see your brand but millions of people.
Promotional shopping bags are great ways to increase brand recognition for your business. For example, let's say your company logo is branded on a shopping or a tog bag, then university students, schools and sports team will be promoting your brand because where they walk or go to with that tog bag, people will notice the branded bag.
Many consumers remember receiving a promotional item especially if they use the item more than once and it is put to good use.
Types of promotional bags
Drawstring bags
Gift Bags
Cosmetic Make up bags
Cyclist backpack
Fibre bags
Bamboo bags
Tote bags
Handbag with bamboo grip
Toiletry bags
Zippered Laptop cases
Cotton Bags
Polyester bags
Moon bags

Why are promotional blankets great giveaways?
Promotional blackets are great promotional giveaways because they can be of great use all time. When you go to sleep at night, you need a blanket to keep you warm throughout the night, so they are beneficial because they can be used at night. If you're thinking about going on a picnic with family and friends, then you will be something to sit on, so blankets would be great necessities for picnics, braai days, babies and at night when you sleep.

Branding a blanket with your company logo is a fantastic way to show you care.
Brand Innovation offers promotional blankets that are available in different colours, sizes and designs for you to choose from.
Brand Innovation supplies great fleece blankets that are available in different colours, designs and sizes. These blankets are smooth, comfortable and perfect for snuggly up with your friends or loved ones on a chilly night.

Why branded promotional blankets are great promotional items?
Branded blankets are great to market to potential clients and consumers.
The cool fact about blanket is that they are used every night when people go to sleep. They can even be used for picnics with family and friends, camping and other great occasions.

Blankets allows you to have a great branding section to promote your brand and to gain more exposure. Branded blankets can be used as a corporate gift for an employee, they can be donated to charities, schools and kindergarten kids that even take their afternoon naps.
Promotional blankets are very effective as they can be used in the long run for many years, this will give your brand long term exposure for many years. Brand Innovations supplies a great range of blankets in different sizes, colours and shapes that can suit your needs and preferences. Brand Innovation offers cost-effective fleece blankets for you to snuggle up with during the winter period.
Branded water bottles can be used as a promotional giveaway because they are cost-effective for companies to invest into. Branding bottles with your company logo will increase awareness.
Brand water bottles and give out free giveaways at tradeshows, community running events, charities, sponsored events and marathons like the two oceans. This will create fantastic exposure for your company as people will enjoy your company's presence. You can even announce that your company will be attending these events on your social media pages to gain more engagement and traffic to your pages. You can even mention that you will be supplying gifts and water bottles to expose your brand more.
Glass water bottles
Water bottle with infuser
Aluminium water bottles
Metal water bottles
First Aid Kits are essential to have as accidents and emergencies can occur at anytime of the day. Brand Innovation supplies first aid products and essential items that can be used when accidents occur. So, weather you're on the road riding a bicycle or simply just doing any sporting activity, then it would be great to have a first aid kit with you.
Brand Innovation offers basic first aid kits to ensure the safety and security of your well-being weather you're at work, in the office or at home
Promotional Keyholders are fun and practical ways of making your car keys or your backpacks stand out a little with some colour. They are also great promotional gifts that can be handed out at car organisations, charities, running marathons or community events. You can get really creative with a colourful design that would stand out.
Brand Innovation has some awesome keyholder designs that would be great for kids to use on their school bags, handbags, tog bags or even on your car keys when you're driving around.
Branding your company logo on a keyring with an attractive design would be a great advertisement to boost some awareness about your brand and to get noticed. Banded keyrings can be worn on your car keys, your backpack, gym tog bag or even your hand bag.
When consumers attach these keyrings on their bags, they are increasing awareness for you because whenever they walk around to different locations people will be noticing your branded keyring. Handing out promotional keyrings to schools, sports teams, universities and corporate industries can bring your brand great exposure and could potentially generate more sales.
Types of Promotional Keyrings
Colourful funny face keychains
Thumbs up keychain
Bottle opener that comes with a keychain
Flip Flop keychain
Keychain with a silver photo frame
Keyring with a flashlight
Keychain shaped like a mini light bulb
Wooden keychain
Keychain designed like a stress ball
Keychain with a plastic compass
Keychain with solar torch
Silver executive keyrings
Keyring with metal leaf clover
Golden keyring with fluffy pom pom
Keyring with bottle opener
Cork keyholder
Truck keyrings
BIC 4 Colour pen
BIC Clic pen
BIC Grip Rollerball pen
BIC Intensity Gel pen
BIC Matic Mechanical pencil
BIC Pivo Metal pen
BIC Solo Desk Set
BIC Round Printed pen
BIC Super Clip pen
BIC Tri-Tone Twist Pen
BIC Wide Body Grip metal pen
BIC Wide Body Metal Ballpoint pen
Promotional lighters are great ways to advertise your brand and raise awareness. Let's say you're at a family braai and you're about to light up a fire then keeping a lighter on you would be a great tool.
If you're a smoker that smokes on a regular basis then having a lighter with you at all time would benefit you. So, whenever you feel like having a cigarette you can keep a lighter in your pocket. You can hand out promotional lighters to Tabaco organisations.

Engraved Promotional Lighters

Should you engrave your business logo on a lighter?
Yes, of course you should engrave your business logo on a lighter. This will allow consumers to notice you brand every time they light up a braai, have a cigarette or simply just light candles in their home.
Branded Lanyards
Lanyards are great marketing ways to promote and expose your brand quicker. Lanyards are also safety ways of keeping your ID tags safe around your neck.
Let's say your company is at a massive media conference, all the organisations are required to wear lanyards in order to meet new employees. This is where lanyards will help people identify the next person because their lanyard will show their first name and their company name. Brand Innovation offers lanyards in a variety of branded lanyards that comes in different colours, branding and different hooks.
Branding your very own wristband with your company logo are cost-effective opportunities that your business can afford to exposure their brand more. Promotional wristbands are colourful, easy to hand out and slip around your wrist.
Let's say your company is attending a business conference with other corporates attending as well, then a wristband can come in handy because having a certain colour wristband with your company name can separate you from other corporates so basically speakers and other businesses will be able to recognise your brand easily if they have a wristband on branded with their company logo.
Achieving Brand Awareness through Branded Wristbands
Branded wristbands are relatively cost-effective and inexpensive to produce so basically, they can be manufactured at an affordable cost. Branded wristbands and great for promoting causes, creating awareness and getting involved in awareness events. Wristbands can also be used in fundraises. These are excellent ways to market your brand and to create awareness. Brand Innovation offers silicone and plastic wristbands. They are fun, practical and durable around your wrist.
Attend local events like fundraisers to raise awareness around cancer- Brand pink silicone wristbands with a motivational line and your company name
Marathons- Hand out colourful branded wristbands to runners with a bottle of water. These runners may even post an image of them wearing your wristband which will expose your brand more.
Charity events- How about attending local charity events
Promotional sunglasses are great promotional items for staff members, social media giveaways and clients.
Types of sunglasses
Beer sunglasses
Black sunglasses with a mirror lens
Plastic sunglasses with colour accents
Metal sunglasses
Wayfarer sunglasses
Sunglasses with white earpieces
Promotional umbrellas are fantastic products that can be used as a promotional giveaway. They can be used during the summer and winter periods to protect you from the rainy weather or the sun's harmful rays.
Types of umbrellas
8 Panel golf umbrella
Open hook umbrella
Beach umbrellas
Beach umbrella with tilt function
Foldable umbrella with metal frame
Foldable umbrella with sleeve
Golf umbrella with grip handle
Reversible umbrella
Storm proof vented umbrella
Coated beach umbrella
Hook handle umbrella
Automatic walking stick umbrella
Pop up umbrella
Umbrella with wooden shaft handle
Compact umbrella
Torches and knives are great tools to have when you go camping on a family trip or even to use around the house when the electricity goes off. Consumers that enjoy the great outdoors and love to embark on travel adventures can find this collection useful when they take on their journey.
Let's say you're an electrician or a plumber and your job require you to fix certain objects and products. Then there would be some useful tool kits that could help you in your line of work.
Types of promotional torches and knives
11 function pocket knife
13-piece home tool set
2 in 1 flashlight and lamp
3 in 1 tape measure
3 Led flashlight and magnetic pick up tool
Screwdriver set and torch
Camping lamp
Emergency auto tool kit
Call us now on 0861 111 954 or

EMAIL US

for a quick quote .




In conclusion, investing into promotional items and branding those products with your company name can increase awareness for your brand.

It is essential to brand your products or gifts to consumers and clients in order to represent your brand professionally and to create attract new consumers at the same time.

Giving gifts to clients and staff members is a great way to reward them for all their hard work. By giving clients and staff members gifts they will appreciate your effort.

We hope this blog helps you in making the correct buying decisions for your company and what essentials are needed in an office environment. We hope that we have equipped you with the well enough in knowing the importance of branding and how it can benefit your company.

Brand Innovovation would love to assist with your corporte gifts or promotional items.
We are ready to help your brand fly.