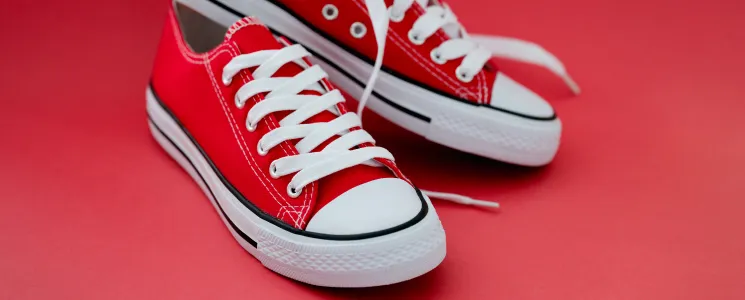 Looking for trendy sneakers to carry your brand into the future?
The hospitality industry & canvas sneakers
The hospitality industry demands long hours on your feet, and to get through the constant running around, whether you're a chef or waitron, requires the right footwear, which is where the stylish sneakers from Brand Innovation fit in very comfortably.
Along with an awesome range of hospitality clothing such as beanies, bandanas, aprons, chef jackets, utility tops and even kiddies aprons thrown in for young budding kitchen fundis, Brand Innovation has rounded it all off with the most comfortable sneakers.
There's the
Unisex Retro High Top Canvas Sneaker
, as you can see below, which is designed for absolute comfort to carry your staff through long days. These are available in black, navy, red and white. You would naturally make your choice according to which colour would best highlight your branding.
The
Unisex Trendi Canvas Sneaker
below is another gem for feet that work hard. Like the Unisex Retro High Top Canvas Sneaker, these canvas sneakers are fully washable, which is a must for the hospitality industry and for general wear. They look new for a very long time if they're looked after properly, making them a worthwhile investment for your staff.
If there's one thing you can count on when you invest in branded sneakers, it's that they'll be doing the talking for your brand while they're walking!
Trendy canvas sneakers for every day fun
No matter what industry you represent, there is always a reason to gift clients with these trendy sneakers from Brand Innovation. Get the sizes right, add your snazzy brand and watch brand recognition spread like wildfire as your clients wear them out and about, whether for leisure activities or for sheer comfort at work.

There's no doubt that clients will keep your business at the top of their list the next time they're in need of your products or services, no matter what type of promotional gift or corporate branded gift you give them.
Canvas sneakers for kids
Of course the team at Brand Innovation made sure that there would be a sneaker for kids in their quality range, and we all know the kids love these comfy sneakers!
Why choose Brand Innovation as your marketing partners
To start with, this is a team that's in it for the long haul. They are passionate about what they do, and nothing beats their pleasure in finding a way to add exceptional value to any below the line marketing activities you'd like to plan.
Then there's the fact that every client matters to this team, which is the bottom line when it comes to offering a personal service that really cares about finding branding and marketing solutions that'll keep your brand upwardly mobile.
Brand Innovation has a wide variety of
promotional marketing products
that are designed to meet all your needs, whether it's looking at high-end promotional gifts for extra-special clients, or fun giveaways for a broader marketing spree.
You can expect this team to deliver everything they promise, and to deliver it on time, every time, anywhere in South Africa.
Contact Brand Innovation
today to get your brand moving in the direction it deserves to go, which is always on the up and up, and with this team on your side, you'll be teaming up with people who are super-positive about a brighter future for South Africa!