Blog
---
Which water bottles are best for Cyclists?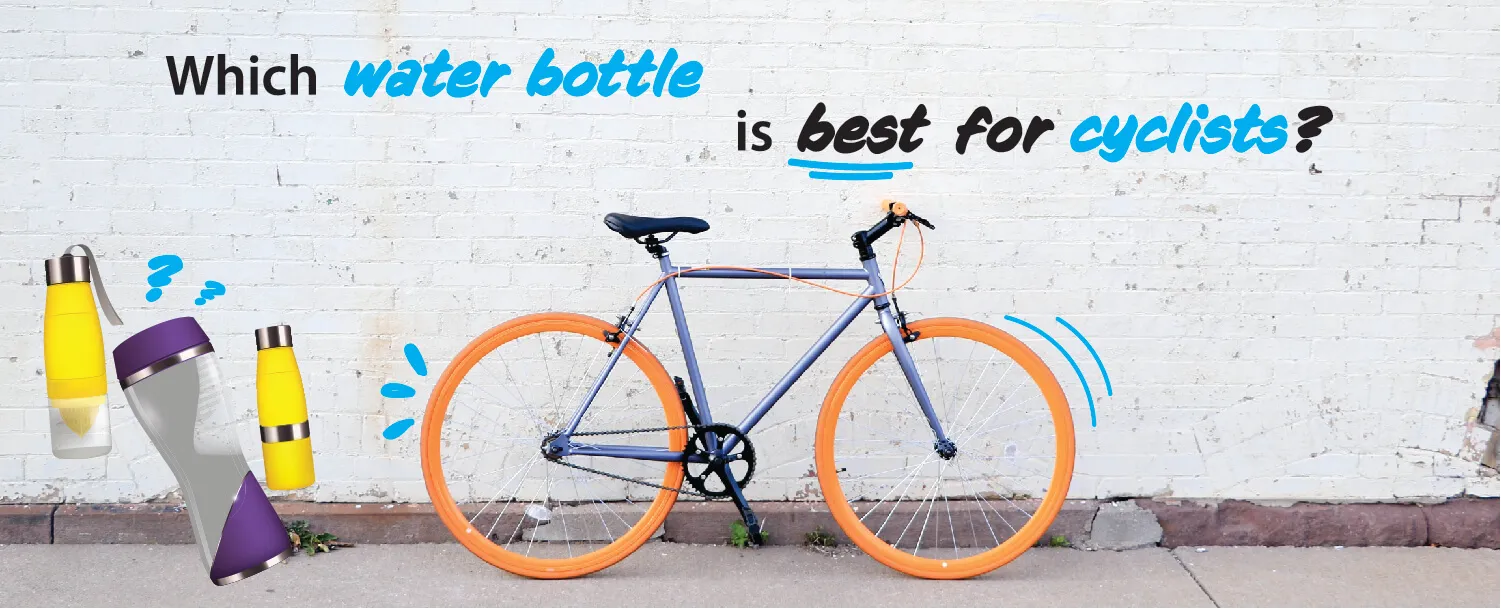 When choosing the best water bottles for cyclists, what do you think cyclists need? Here are three to choose from.
The Glacier Freezer Double Wall Water Bottle
I personally like the glacier freezer double wall bottle. It has a double walled design that has freeze gel. Its lightweight and conveniently sized. The glacier freezer double wall bottle can keep your water cool for longer.
How to choose water bottles for cyclists?
When you are choosing a water bottle consider the material. For example, you can check if
the bottle can slide easy into your water holder on your bicycle.

Are the water bottles BPA-free? BPA-free water bottles are well-known endocrine disruptor
and can be an issue for your health. Having a BPA- free water bottle can be a safer option.
They don't contain harmful chemicals.

Aluminium water bottles are also available if you choose them.
Promotional water bottles at the Cape Argus Cycling Tour
If you are sponsoring an event, you can include promotional water bottles as a gift for 1 st , 2 nd
and 3 rd place cyclists.
BPA-free water bottles
What is BPA?
BPA stands for Bisphenol-A. This is an estrogen-imitating chemical that is used to produce
reusable plastic products and bottles. BPA is used in a material known as epoxy resin. This is
known as the lines of metal food and drinking cans.

When the chemical of BPA is in a can or a plastic bottle, then this can cause harm to
humans. The BPA chemical can get into food or drink containers. These chemicals can enter
into your body once you swallow. The BPA chemical can be found in plastic items and resins,
which is used in food and beverage packaging. Due to the BPA issue, majority of the food
and drinks that your buy at the store can contain a certain amount of BPA.
When choosing the best water bottles for cyclists, what do you think cyclists need?
A big water bottle so that they don't need to stop all the time, so a 750ml capacity.
BPA FREE plastic for good health
Easy drinking lid.

Here are three to choose from.
BPA-free water bottles
Our water bottles are BPA-free. BPA-free bottles reduces certain chemicals from its
material. BPA- free water bottles can be used without having the risk of BPA-consumption.
The benefits of using BPA-free water bottles
Water bottles can be refilled more than once
Less fossil fuels and toxins can be released into the atmosphere during the production procedure.
BPA-free water bottles can have smaller carbon footprints.
Using BPA-free water bottles can reduce hundreds of plastic bottles from ending up in a dump.
Creating brand awareness through cyclists
Every time a cyclist rides their bicycle with your branded water bottle, this will increase
awareness for your brand. Consumers in cars that are driving could notice your brand as
cyclists pass by.
Why water bottles would be the perfect marketing campaign for your brand
Branded water bottles can be a marketing opportunity. Water is a resource that billions of
people use every day. Branded water bottles can be used at sports events, community
events.
Types of events where promotional water bottles can be used
Charities
Trade shows
Marathons
Cycling tours
Functions
Parties
Swimming events
Interschool sports activities
What are infuser water bottles?
They are water bottles designed to infuse fruit with water. Cut some fruit up and then add them into the bottle. You will be able to enjoy healthy water with great vitamins and minerals. Infuser water bottles with fruit inside can increase your water-take because fruit can give water some flavour.
Why are infuser water bottles great promo gifts?
Many people prefer sparkling water or just a fruit drink. However, you can infuse your water with fruit. So, the infuser water bottle is something different. This bottle can help you increase your water intake while giving you a vitamin boost. So, the cool fact about this bottle is that you can gain water nutrients and fruit vitamins both at the same time
Curves-750 Water Bottle- 750ml
I would recommend the 750ml water bottle. This water bottle comes in different colours. We have a great stockholding in the colours black, blue, orange, red and white. So, if you place an order, we should have stock available for you. We have branding options available. The branding options are pad printing and digital dome sticker.
750ml Endurance Water Bottle
I would also recommend the 750ml endurance water bottle. Its BPA-free which is great for the environment. This water bottle is available in different colours, white, red, blue, lime, clear and black. We have a great stockholding.
You can also see the full range of plastic water bottles here.
Many people enjoy cycling. Some people cycle as a professional sport. However, having a water bottle with you while you cycle can keep you refreshed and energized.
Brand Innovation offers water bottles that can be recommended for cyclists. Water bottle installations can help cyclists while they are riding. It's a quick and easy way to just grab the water bottle while they are cycling and slip it right back into the holder when they are done drinking.
Request a Quote
Browse Drinkware
Enquire